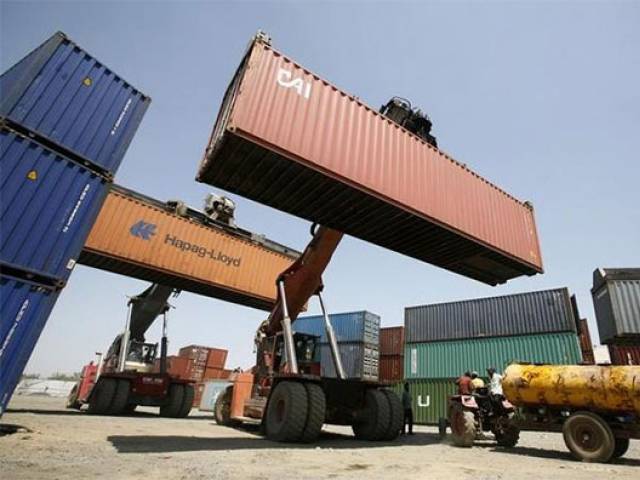 ---
KARACHI: Pakistan's trade deficit remained at $3.19 billion in July even as the rupee lost value against the US dollar, suggesting that the move to let the currency slide will not be enough to control the burgeoning gap.

The Pakistan Bureau of Statistics (PBS) reported on Monday that the country's exports stood at $1.646 billion against imports of $4.838 billion last month, putting the trade deficit at $3.19 billion, up 0.31% compared with $3.18 billion in the same month of the previous year.

On a month-on-month basis, exports decreased from $1.887 billion in June 2018, while imports reduced from $5,694 billion.

In a bid to control the deficit that has eroded the country's foreign exchange reserves, the State Bank of Pakistan (SBP) has let the rupee go on four separate occasions since December 2017. The rupee has lost close to 18% in the last eight months.

Pakistan in a weak position in FTA with China

Economist Dr Ashfaque Hasan Khan said one-month data will not be enough to see the effects of rupee devaluation. However, he warned that a weaker currency will not be enough to resolve Pakistan's crisis.

He suggested that the authorities must take measures to curtail imports and boost exports.

"Egypt failed to bring (positive) changes in its external trade despite depreciating its currency to boost exports and curtail imports," he said. "We (Pakistan) need to cut imports by $6-7 billion to narrow down the trade deficit in real terms."

In addition to rupee's devaluation, the previous government imposed regulatory duty on hundreds of items, and extended an export package to the textile sector.

While exports did rise, the increase was not enough to narrow down the trade deficit.

Pakistan's cost of trading across border highest in region

Resultantly, the deficit eroded the country's foreign exchange reserves to alarming levels before China extended a $1 billion loan.

The SBP also made credit to the private sector expensive by 175 basis points to 7.5% since January 2018, to tame aggregated demand and fix the current account deficit.

JS Global Research Chief Operating Officer Khurram Schehzad, who has a similar view on the current balance of trade, said "the good thing is that it (trade deficit) did not increase anymore."

"Rupee devaluation may not help reduce the deficit as a majority of imports in the domestic economy are used by export-based industries as raw material. So the measure may never achieve the desired results.

"If the impact on balance of trade was to come, it would have in the last 3-4 months, as authorities have been devaluing rupee for about eight months now." Schehzad said the country needs structural changes, like diversifying exports instead of heavily relying on the textile sector, lowering cost of production and rationalising taxes on imports and exports.

Pakistan unlikely to feel impact of global trade war

In the previous fiscal year (FY2017-18), imports stood at $60.86 billion, which was 2.6 times of exports of $23.22 billion, resulting in a historically high trade deficit of $37.64 billion in the year.

Imports were heavily dominated by energy (oil and gas) and machinery purchases amounting to $14.43 billion and $11.56 billion, respectively, in fiscal 2017-18. On the other hand, the textile sector drove exports with its share coming to 54% in the total during the previous year.

Published in The Express Tribune, August 14th, 2018.

Like Business on Facebook, follow @TribuneBiz on Twitter to stay informed and join in the conversation.
COMMENTS (2)
Comments are moderated and generally will be posted if they are on-topic and not abusive.
For more information, please see our Comments FAQ