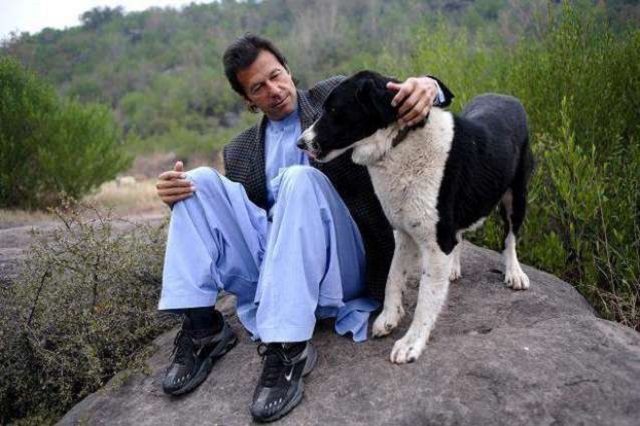 ---
Prime Minister in-waiting Imran Khan's dogs are getting their own Wikipedia page, the encyclopedia's help desk confirmed.

"Wikipedia articles cover notable topics. If a topic or subject receives significant coverage in reliable secondary sources (independent of the subject) such as newspapers, then the topic/subject is considered notable and can have its standalone entry on Wikipedia," Saqib of Wikipedia's help desk told The Express Tribune.

Imran to be formally nominated as PM today

Last year, the online encyclopedia giant deleted the Wikipedia profiles of Bakhtawar and Asifa Bhutto-Zardari on the account that "notability is not inherited." However, Imran's pets have gathered much attention on reliable sources.

"Imran's pet dogs attracted press attention over a sufficiently significant period of time, so I think we can have a page on them, We already have several pages on United States presidential pets," Saqib added.

However, the page lacks basic information about the hounds such as their birth dates, behaviour types or biological details, but "the dogs will attract more media attention after Imran assumes the high office and more information will surely pour in."


Earlier, when Bakhtawar's page was deleted, it violated three policies of Wikimedia; copy paste, neutrality and primary source. Most of the information on the page wasn't gathered on her merits but on the merits of the Bhutto family, said the page.

"The subject is often in the news but there is no in-depth coverage on her. She is not a elected politician. She doesn't have a notable career either," a comment on the delete page said.

Imran Khan's political rise: The context

Although Wikipedia users and contributors lauded Aseefa's activism and work towards polio eradication, it claims that a person's profile can't be retained on Wikipedia unless it has met a certain criteria. Wikipedia users have labelled her as a "health activist", but argue that "working for the UN or any other top organisation doesn't make one notable".