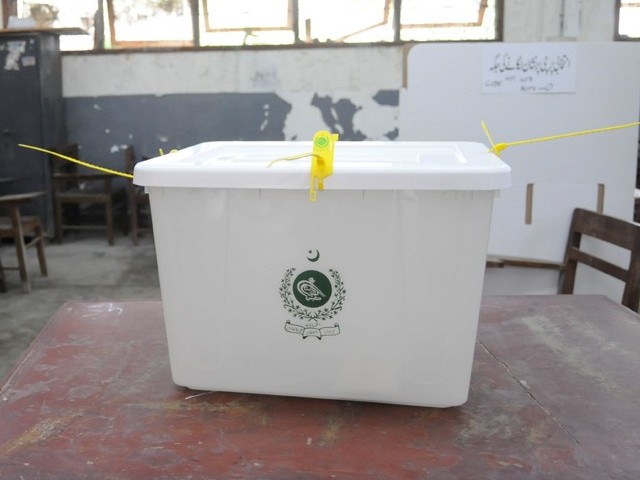 ---
MURREE/ISLAMABAD/ABBOTTABAD: Former prime minister Shahid Khaqan Abbasi's petition for a recount in his NA-57 Murree constituency was rejected on Saturday by Returning Officer Haider Ali.

Abbasi lost his home constituency and allegations of rigging were hurled by workers of Pakistan Muslim League-Nawaz (PML-N) after they were stopped from interfering in the counting process.

Abbasi had filed a petition asking for a recount in the constituency. Lawyers from both the PTI and PML-N argued their case in front of a local judge. The RO announced the verdict of a petition after hearing the arguments of all parties in the case.

Vote recounting requests for 3 NA seats accepted

Punjab

In Lahore's NA-131, the process of recounting was initiated after the Election Commission of Pakistan (ECP) accepted an application filed by former railway minister Khawaja Saad Rafique. The PML-N stalwart lost to PTI Chairperson Imran Khan. Recounting in the provincial constituency of PP-162 also commenced.

The ECP also ordered recounting of ballots in Faisalabad's NA-106 and NA-108 constituencies. The process in NA-106 is expected to start later today after PTI candidate Dr Nisar Jutt called for a recount, PML-N's Rana Sanaullah Khan won the seat on July 25. PML-N's Abid Sher Ali lost to PTI's Farrukh Habib in NA-108.

ECP officials also started recounting in NA-126.

In Jhelum, the application of another PMLN candidate who lost by a narrow margin was rejected by the RO PP-25 constituency. Mehar Fayaz lost the provincial seat to PTI's candidate by 3,296 votes while 6,939 votes were rejected. He applied for a recount but the RO denied the request.

Independent candidate Abdul Dasti was declared the winner from PP-270 Muzaffargarh-III after a vote recount was conducted in the constituency. He won by 17 votes. The previously declared winner from the constituency, Muhammad Ajmal Khan from Awami Raaj Party (ARP), challenged the decision and requested the ECP to recount all ballot boxes.

Meanwhile, the ROs turned down pleas for recounts by two PML-N candidates in Jhelum who had lost to PTI candidates by close margins.

PML-N's Nasir Mehmood lost at PP-27 Pind Dadan Khan to PTI's Fawad Chaudhry by only 1766 votes. Fawad polled 67,003 ballots while Mehmood received 65,237 votes. With a win/loss margin of only 1766, a total of 4323 votes were rejected in the constituency.

Similarly, in PP-25 comprising Dina and Sohawa tehsils, PML-N's Mehar Muhammad Fayyaz lost to PTI's Raja Yawar Kamal Khan by only 3296 votes while 6939 votes were rejected by the presiding officers. Fayyaz polled 56,421 polls while the PTI candidate bagged 59,717 votes. Fayyaz and Mehmood filed applications on Friday but their applications were turned down on Saturday.

Both told The Express Tribune they received results from the RO on Thursday afternoon and filed applications the next day, Friday. Khan said his application was turned down because the RO said he had filed it late.

"I got the result at 1pm on Thursday and filed the application on Friday, which has been rejected. I will now approach the election tribunal," Mehmood said.

Sindh

In Sindh, the Pakistan Peoples Party (PPP) filed an appeal at a local court in Malir for a recount of NA-237 where Abdul Hakim Baloch lost the seat to PTI's Jamil Ahmed Khan. In a surprising move, the court rejected PPP's plea for a recount and maintained the earlier result.

A ballot recount in NA-230 and PS-73 in Badin district was also initiated on the request of former National Assembly speaker Dr Fehmida Mirza. Mirza won NA-230 with a total of 96,875 votes; and lost PS -73 with a marginal difference.

K-P

All six applications filed for recounting of votes on four provincial and two national assembly seats have been rejected by their respective returning officers. Almost all the ROs while rejecting requests quoted section 95(5) of the election rule, which states that difference of the votes must be less than 5% between the winning candidate and losing candidate or less than 10,000 votes, while in some of cases, ROs in their short judgments noted that the ECP set a deadline of July 30 for the final list with counting of postal ballots, therefore, time limitation was the reason for denial.

Caretaker govt terms elections a success

Sardar Muhammad Fareed an independent candidate from PK-36 had filed an application against Pakistan Tehreek-e-Insaf's Nazeer Abbasi which was rejected while PTI's Waqar Nabi also had his petition for recounting against Pakistan Muslim League-Nawaz's Sardar Aurangzeb Nulhota turned down. Similarly, PML-N's Muhammad Arshad request for re-counting against PTI's Qalandar Khan in PK-38 was also rejected, while the fourth application turned down was filed by PML-N's Inyatullah Khan Jadoon against PTI's Mushtaq Ahmed Ghani.

Meanwhile, for the two NA constituencies, NA-16 Abbottabad -1 application of Mohabat Awan was rejected against Ali Khan Jadoon of PTI while PTI's Ali Asghar Khan's request against PML-N's Murtaza Javed Abbasi also rejected by the RO as the difference in votes was of more than 10,000.