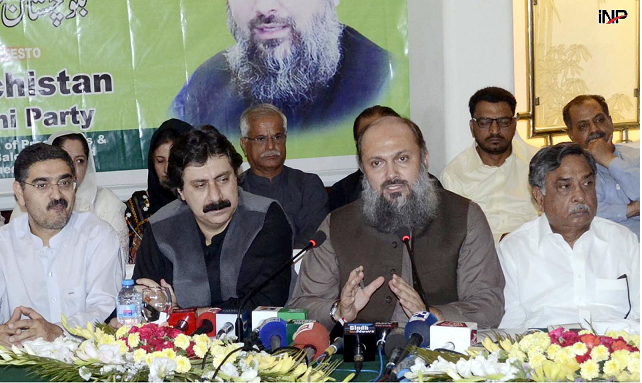 ---
QUETTA: The Balochistan Awami Party (BAP) on Tuesday unveiled its manifesto promising development, peace and good governance in the impoverished province.

The manifesto was revealed during a joint press conference addressed by BAP founder Saeed Ahmed Hashmi, President Jam Kamal Khan Aliyani, Senator Anwarul Haq Kakar, Secretary General Manzoor Kakar and other party leaders.

Foreign forces out to destabilise Pakistan: BAP leaders

"BAP will address the current financial crisis in the province by enhancing the mineral sector, technical fund, build Balochistan Bank, establish industrial areas and allocate government land for development programmes," said the BAP leaders.

BAP President Kamal said, "Balochistan has been plagued by lack of proper educational facilities for which we will increase the provincial educational budget. Government teachers will be provided digital courses, schools will be equipped with all essential facilities and computer and laptop training will be provided along the international standard lines."

Kamal said, "Good governance and restoration of law and order will be our top priority."

BAP awards 200 tickets to candidates for NA, BA seats

On the healthcare plan for the people of Balochistan, the BAP leadership said, "Government hospitals on district level will be established across the province where doctors and healthcare facilities will be available and health insurance scheme for the poor people of our province will also be introduced."

"Health centres will be established at all costs in all the districts and district healthcare authority will be established to ensure health facilities," Kamal and Kakar said, adding that a new health policy would be announced after developing consensus with the consultation of health experts.

Vowing to end poverty in the province, the BAP manifesto pledges to pay keen attention to local industries, particularly local products being made by household women in Balochistan.

BAP says no one did anything for Balochistan

"Poverty cannot be banished with the wave of a wand, but with adequate planning and vision more jobs can be created for the youth. Our government will invest in livestock, fisheries and other lucrative sectors, which will indeed guarantee economic development in Balochistan," the BAP president added.

On water and electricity crisis, Kamal and Kakar said, "The burgeoning water crisis can create drought; therefore, dams are the need of the hour.

"BAP has pledged to fulfil the people of Balochistan's basic needs, including provision of uninterrupted power supply, water and gas."
They said, "We intend to end discrimination as many disabled persons have complained about government negligence in implementation of their 'job quota'."

They promised to fully implement the job quota of disabled persons and provide shelter and government assistance to the widows.