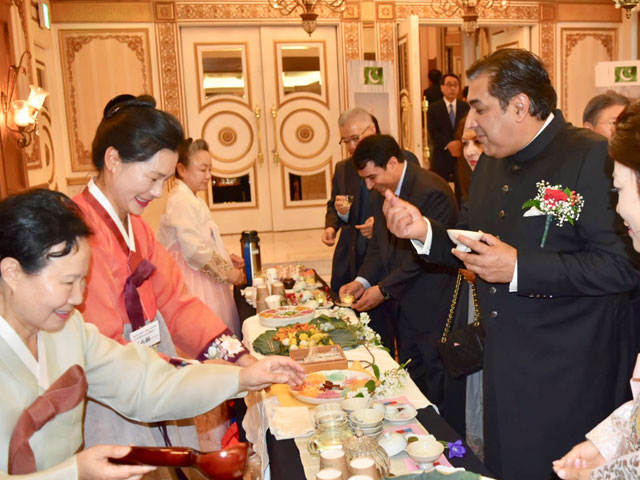 ---
More than 100 Korean businesses and dignitaries attended the first Pakistan-Korea Culture, Food and Business Forum co-hosted by the Embassy of Pakistan and International Food and Culture Exchange Association of Korea.

Addressing the guests, Pakistan's ambassador to South Korea Rahim Hayat Qureshi said Pakistan and Korea shared many similarities. Both became independent shortly after the Second World War after a long period of colonial rule. Korea became independent on August 15, 1945 while Pakistan celebrates August 14, 1947 as its independence day.

These similarities between the countries also extend to the people and culture as both highly respect their elders and teachers, and enjoy great devotion to families. He also highlighted that the languages of both countries had the same sentence structure and many common words.

PU, South Korean varsity ink MoU

"Pakistan, with the sixth largest population in the world and 80 million people in the middle-class bracket, is an ideal destination for investment," Qureshi added.




Speaking on the occasion, Congressman and Chairman Financial Committee, National Assembly of South Korea Cho Kyung Tae appreciated the effort to bring Pakistani and Korean people closer to each other through food, culture and business.

"Pakistani food is delicious and its culture is rich. We are very proud of this collaboration with Embassy of Pakistan and would like to organize such more events for the benefit of the people of both countries," said Ryoo, the Chairperson of International Food and Culture Exchange Association Korea.

Pakistan hails historic summit between North and South Korea

Pakistani and Korean singers and artists performed at the event. Participants enjoyed Pakistani and Korean food at the reception of the event.

There are more than 12,000 Pakistanis in South Korea including businessmen, students and workers. Embassy of Pakistan previously hosted a Gandhara exhibition in 2017 where it displayed more than 20 Buddhist artifacts from Taxila.

The exhibition was viewed by more than 1,00,000 visitors. Recently, the embassy also organised an Investment Conference that brought together more than 140 Korean and Pakistani business leaders.
COMMENTS
Comments are moderated and generally will be posted if they are on-topic and not abusive.
For more information, please see our Comments FAQ