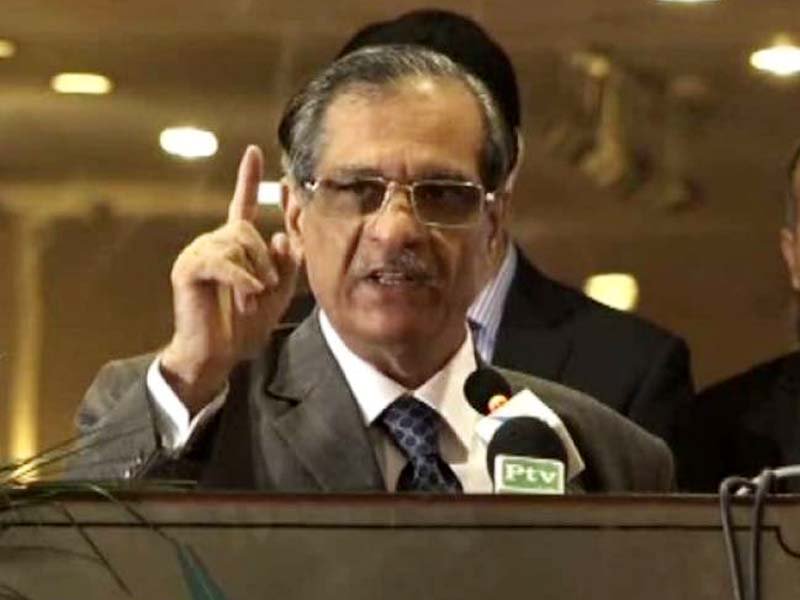 ---
ISLAMABAD: Hearing the matter regarding the written-off loan case, Chief Justice of Pakistan (CJP) Mian Saqib Nisar revealed that all stakeholders have agreed to the construction of two dams in the country.

The CJP while announcing a 'good news' noted that money taken from the write-off loan defaulters would be spent on the construction of dams. He also referred to a meeting wherein he claimed all stakeholders had agreed to the construction of two dams.

Upon this, renowned lawyer and Pakistan Peoples Party (PPP) leader Farooq H Naek, who was present in the courtroom, responded that his name would be written in golden letters in the history.

The CJP assured that disputed dams would not be constructed. He also invited senior experts to get their feedback regarding their construction.

Last week, the top judge had conducted lengthy proceedings on the same matter even when he announced that the SC would conduct proceedings regarding the construction of dams on a daily basis from next week.

CJP says every Pakistani owes Rs57,000

However, a senior government official, who is also part of these meetings, says that another important meeting of all stakeholders will be held soon. However, one section of the lawyers believes that instead of spending time on these matters, the CJP should focus on clearing pendency of cases from the apex court as it has been witnessed that these numbers have been increased during his tenure. The CJP is going to retire in December.

During the hearing on Saturday, the top judge said that several of the 222 individuals and companies who had got their loans written off had agreed to returning 75% of the outstanding loans as per a formula suggested by the bench.

Justice Nisar said that other companies involved in the case, wishing to contest the case further, had the option of going to banking courts and face the proceedings. However, he warned that if banking courts issued a verdict against the companies, they would have to pay the full amount of their loans. He further said that the parties which failed to repay their loans could also go to jail for as long as one year.

Likewise, a number of lawyers representing different companies requested the bench not to forward the issue to banking courts. Upon this, the bench asked them to submit written recommendations regarding how to proceed with the case.

The CJP stated that a special bench would be formed to decide if the case should be sent to banking courts or be heard by the top court.

The hearing of the case was adjourned until July 4.