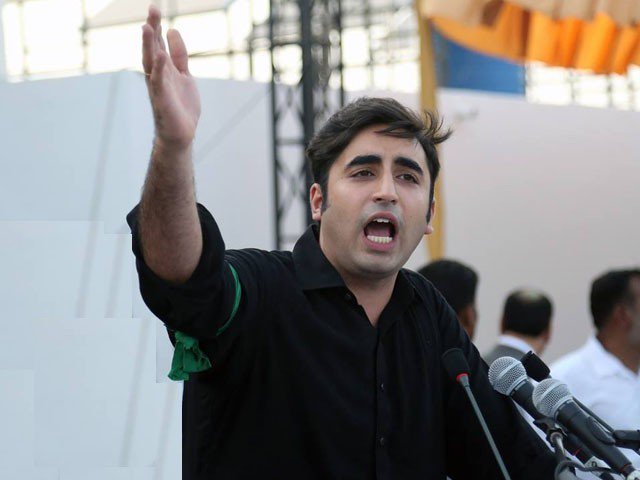 ---
Pakistan Peoples Party Chairperson Bilawal Bhutto Zardari has said that the "Pakistani media is being censored but we will not accept a censored democracy".

Bilawal's oblique criticism was directed at the powerful establishment which has been indirectly accused of stifling freedom of expression in the country.

"If pressure is applied on candidates of PPP or other democratic parties to join another party, then we will not accept such a puppet democracy," said Bilawal while speaking at a ceremony in Larkana celebrating the 65th birth anniversary of his mother Benazir Bhutto.

The scion of the Bhutto dynasty also fired a broadside at his key political rivals – PTI Chairman Imran Khan and PML-N founder Nawaz Sharif. "We have defeated them in the past and we will defeat them again in the 2018 elections," he said.

Bilawal to face stiff competition for 'safe' Larkana seat

He said the PPP was facing the remnants of military dictatorship. "The headquarters of one is in Jati Umra, while the other is based in Bani Gala," he said while referring to Sharif and Imran.

"One has turned politics into a business while the other has turned it into a joke," Bilawal said. "One [Nawaz] is on the warpath with the state institutions while the other [Imran] is using violence and abusive language as his weapon."

Speaking of politics in Sindh, Bilawal said that "political mosquitoes" have once again attacked provincial politics. "These mosquitoes can be seen everywhere, but the people of Sindh recognize their true faces," he added.

The PPP chairman went on to claim that his party would teach its rivals a lesson they would not forget for the rest of their lives.

On Benazir's birth anniversary, Bilawal wrote on Twitter:


My mother Shaheed Mohtarma Benazir Bhutto would have been 65 today & Pakistan would have been on a different trajectory had she not been taken from us. As her son I remain forever committed to building a peaceful, prosperous, progressive Pakistan no matter the challenges. pic.twitter.com/jZ1YDaNFsV

— BilawalBhuttoZardari (@BBhuttoZardari) June 21, 2018
COMMENTS (1)
Comments are moderated and generally will be posted if they are on-topic and not abusive.
For more information, please see our Comments FAQ