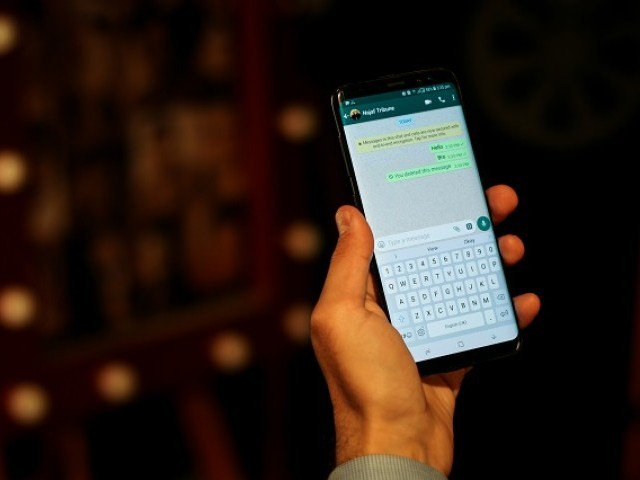 ---
Thousands of users of the most commonly used messaging service, WhatsApp experienced an outage that hit most parts of the world on Thursday morning.

Users were unable to send or receive messages for about half an hour. The application is since back.

WhatsApp co-founder asks users to delete Facebook




For an iPhone user, the name of the person or group was replaced with a spinning wheel while the top displayed the word 'connecting'. On Android, the messages remained unsent.


WhatsApp is having issues since 02:03 AM ESThttps://t.co/hGQzHHfhC6
RT if you're also affected #whatsappdown pic.twitter.com/xvDSuaUXP5

— Outage.Report (@ReportOutage) June 14, 2018


Users took to Twitter to complain and ask questions regarding the outage while WhatsApp remains silent on this issue.

WhatsApp's new feature forces group members to become silent spectators

Is it my whatsapp only? #WhatsappDown

— Shahtaj Khan (@ShahtajkhanSAK) June 14, 2018
Yes, WhatsApp is Down... but luckily South African service providers have given us all those free sms' to finally use #WhatsAppDown

— Brent Lindeque (@BrentLindeque) June 14, 2018
Anyone else? #whatsappdown pic.twitter.com/WQtXmiqbXt

— Jamil (@jamilkob) June 14, 2018
Thank goodness for Twitter... I see it's not just me... #whatsappdown

— Joy Francisco (@joy_francisco) June 14, 2018
So it appears #whatsapp has gone on vacation today#whatsappdown

Here we are turning to Twitter and Facebook to confirm

— Cindy Poluta (@CindyPoluta) June 14, 2018
#WhatsAppDown server is around the Globe.

Cc: #Pakistan pic.twitter.com/kbD5aSGM4k

— SherY - (@SherySyed_) June 14, 2018
What's wrong with Whatsapp now. #Whatsappdown

— Amit Tolani (@iTweetard) June 14, 2018
#WhatsappDown globally pic.twitter.com/5Vj7iCR9lh

— Lauren (@missscottfraser) June 14, 2018
Back up and running! #WhatsappDown #whatsapp

— Baani Ahluwalia (@BaaniAhluwalia) June 14, 2018
COMMENTS
Comments are moderated and generally will be posted if they are on-topic and not abusive.
For more information, please see our Comments FAQ