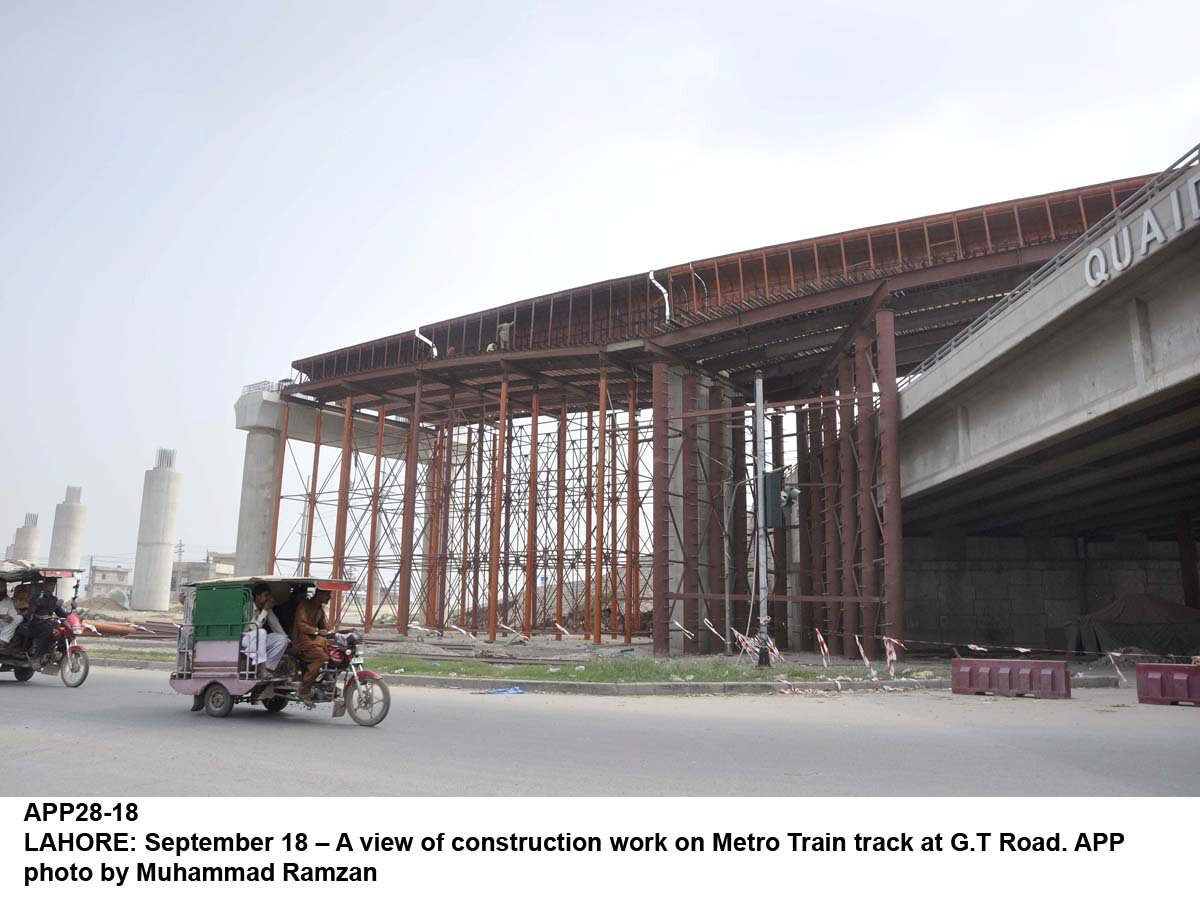 ---
LAHORE: The government has fixed deadline to complete all civil works of the Lahore Orange Line Metro Train (LOLMT) project by end of August, while the target to complete electrical and mechanical works has been set by end of November.

Lahore Division Commissioner Abdullah Khan Sumbal has said trial run of metro trains has increased public expectations. Citizens are anxiously waiting for the LOLMT project to start commercial operations as soon as possible. He said the government was also trying to complete the project at the earliest for which development works were being completed on a fast pace.

Speaking in a project's progress review meeting, he highlighted that underground GPO Station would be available to Chinese contractors for rail track laying by end of the current month, while electrical and mechanical works of the Anarkali Station are near completion. Sumbal directed all concerned department and agencies to continue their cooperation for early completion of the project.

All 27 Orange Line trains arrive in Lahore

Meeting participants were told that overall 89.11% development works of the project have been completed. Development works of package-1 (from Dera Gujjran to Chaburji) have been completed 94.19%, progress on package-2 (from Chaburji to Ali Town) is above 85.55%, on depot near Dera Gujjran 89.63% and on Stabling Yard progress of development works was above 93%. Electrical and mechanical works have also been completed over two-thirds.

Meeting participants were informed after digging in barrel-2, now entire 27.1 kilometres long track has been completed, of which tracks have been laid on 13.77 kilometres in package-1 and 10.48 kilometre. On most station escalators and passenger lifts have also been installed. It was also highlighted in the meeting that Parks and Horticulture Authority (PHA) has almost completed its horticulture works on package-1 while PHA staffs was working tirelessly to complete remaining works of the package-2.

The meeting was attended by Chief Engineer TEPA, LDA Mazhar Hussain Khan, senior officials of LESCO, WASA, PTCL, SUI GAS, Traffic Police, Railways, Rescue 1122, Civil Defence, Chinese Contractor, CR- NOROINCO, Representatives of Chinese Engineering Consultant and local contractors of the project attended the meeting.

Sumbal directed WASA and LWMC officials to ensure cleanliness in the city during Eid holidays. He said there was a forecast of pre-monsoon rains so make a comprehensive plan to deal with water ponding in low-lying areas. He also directed authorities to make sure that manhole covers were available in their areas to avoid any accident.

Published in The Express Tribune, June 14th, 2018.