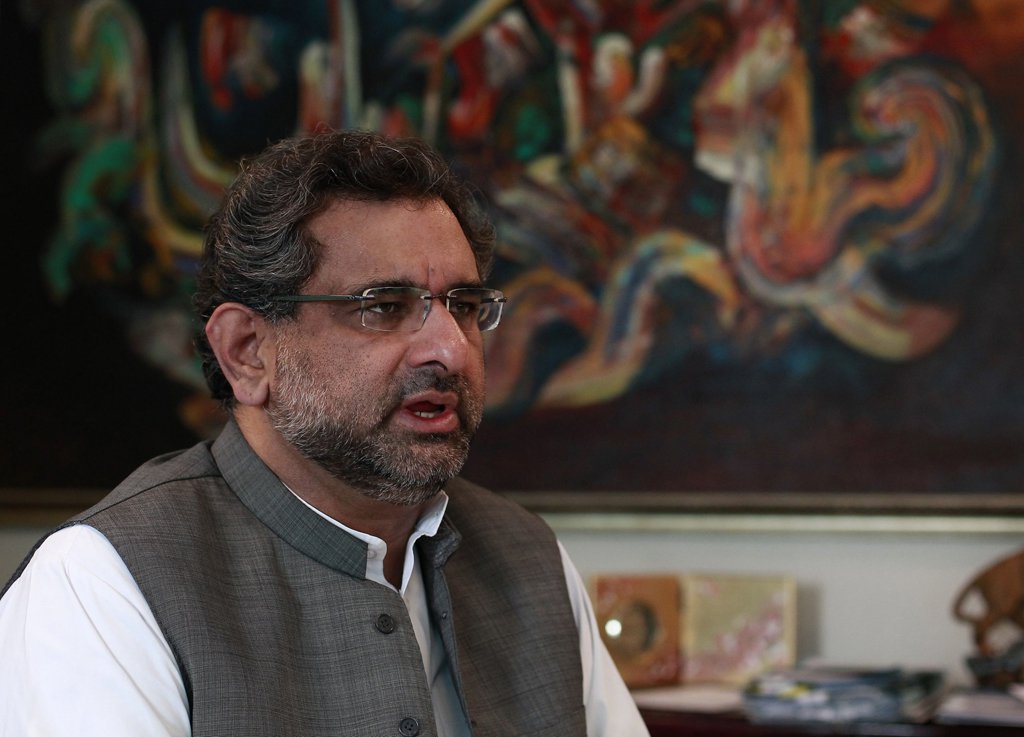 ---
ISLAMABAD: Neither the government nor opposition will entertain any suggestion for delaying the general election, Prime Minister Shahid Khaqan Abbasi said at the end of the last sitting of the National Assembly on Thursday.

The 14th National Assembly dissolved on midnight Thursday.

Holding election on time was a constitutional requirement and no delay would be allowed in the conduct of the polls, he said.

Only the next government, chosen by people's will, was entitled to tackle issues confronting Pakistan.

Democracy, he said, demanded free, fair and transparent elections.

Stressing the need for evolving consensus on critical issues, he proposed a national dialogue to define the relationship between various institutions.

PML-N to win elections, predicts The Economist

"National dialogue will help resolve (issues in) relations between the civilian leaders and military commanders, the parliament, judiciary and the executive," he said.

Abbasi also called for setting up a 'Truth and Reconciliation Commission' to look back into national history and evolve a consensus on national issues.

Highlighting the government's performance, Prime Minister Abbasi said that the domestic security situation had greatly improved because of the sacrifices of Pakistan's armed forces, adding that terrorism had been defeated and peace had been restored.

He said that restoration of peace in Karachi was the result of consensus among all political parties.

The prime minister said that the national economy had been revamped and the country had achieved a growth rate of six per cent. He said that the country was now attracting foreign and domestic investment.

Radical tax reforms,  he said, had been introduced and energy crisis had been overcame.

Projects initiated by the government would ensure availability of sufficient electricity by 2030.

He said that 114 new gas discoveries had been recorded in the PML-N tenure.

According to him, the TAPI (Turkmenistan-Afghanistan-Pakistan-India) pipeline project would start gas supply by 2020.

Commending the government on revolutionizing regional connectivity, he said that 1,700-kilometer-long motorways had either been completed or near completion.

Completion of the western corridor would open up Balochistan, he said.

The country, he said, had approved first-ever national water policy, adding that work on Mohmand and Diamer Basha dams had been initiated. These project, he said, were essential for overcoming water shortages.

Coal from Thar was being used for generating cheap electricity, he said.

He also pointed out that FATA's merger with Khyber Pakhtunkhwa was also one of greatest achievments of the government.

CPEC, he said, offered tremendous trade and economic potential, adding that it would play an important role in Pakistan's economic growth.

On the foreign policy front, he said that Pakistan had never compromised on its sovereignty and the Kashmir issue had been raised on all international forums.

"International community is now receptive to our point of view on Afghanistan … This issue must be resolved in accordance with the wishes of that country's people … War is no solution to political issues," he said.

Thanking the speaker, leader of the opposition in the National Assembly and other lawmakers, he said that they had all cooperated in running the house.

Syed Khurshid Shah, meanwhile, said that education was necessary for strengthening democracy and national economy.

Speaking on a point of order, he said he urged all incumbent and future lawmakers to strengthen the parliament and democracy.

Congratulating the people of Pakistan, he said that it was a good omen that another assembly had successfully completed its tenure.

He agreed with the prime minister for setting up a Truth and Reconciliation Commission.

Mehmood Khan Achakzai said it was unfortunate that former prime ministxc Nawaz Sharif had been disqualified despite having an evident majority.

He said that all such decisions could have been avoided if the parliament was properly empowered.

According to him, the former prime minister was being penalised for truly believing in the supremacy of the constitution.

Legislation in five years

In his winding up speech, National Assembly's Speaker Sardar Ayaz Sadiq highlighted the assembly's performance.

Giving comparative historical data, he said that the 2002-05 assembly had passed 38 laws while the 2008-13 assembly passed 93 bills.

The outgoing assembly, he said, had passed 151 laws between 2013 and 2018.

PPP picks sword as election symbol, confirms ECP

Appreciating services of all leaders of parliamentary parties, he said that Ijaz Jakhrani, Dr Shirin Mazari, Naeema Kishwar Khan had performed outstanding services.

He also appreciated Riaz Pirzada's role in running the affairs of the House. During his tenure, he said, he had the cooperation of all members of treasury and opposition benches.

Making last day of NA memorable

Lawmakers overlooked party affiliations and personal dislikes to make the last day of the national assembly's session memorable.

The entire day was filled with laughter, photo shoots, hugs and selfies.

Almost all parliamentarians were allowed to speak on the last day of the NA.

Before the reading the prorogation order, Deputy Speaker Murtaza Javed Abbasi said that holding election within 60 days of the dissolution of assemblies was a constitutional obligation.

Interestingly, no one from the opposition benches pointed out the lack of quorum and everyone helped the government in passing the bill for increasing the salary of the president.

The bill was moved by Minister for Parliamentary Affairs Shaikh Aftab Ahmed.
COMMENTS
Comments are moderated and generally will be posted if they are on-topic and not abusive.
For more information, please see our Comments FAQ