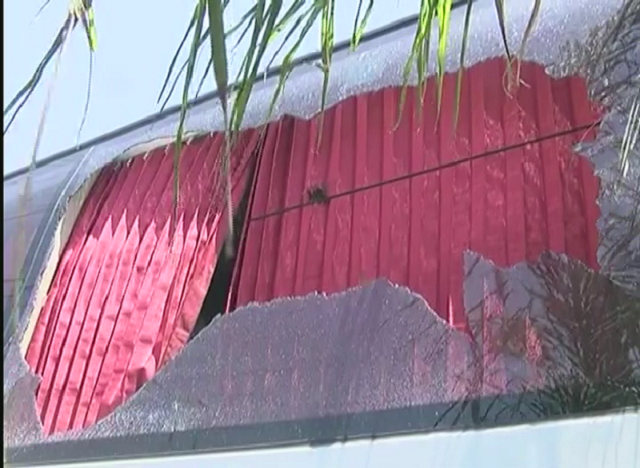 ---
ISLAMABAD: At least two men were injured after a Motorway police officer opened fire on a passenger bus near Islamabad Motorway toll plaza on Wednesday noon.

Police say the bus (No LES-18-09), which was coming from Peshawar, was suspected to be carrying smuggled and non-custom paid items and was thus signaled to pull over. A video captured by a an unidentified motorist who was travelling behind the bus at the time shows a Motorway patrol car chasing the bus and later the officers opening fire on the bus as it exited the Motorway.

Motorway police has fined 100,000 vehicles since January 2018

A spokesperson for the Motorway police told The Express Tribune that they had been alerted by the customs authorities in Peshawar that this specific bus was carrying non-custom paid goods. He said the bus staff misbehaved with an officer when he tried to stop and search the bus at the toll plaza. He said a patrol car chased the bus when the driver tried to speed away, and after giving a chase and blowing their hooter for some time, they opened fire on the bus. "Clearly, the officers were also at fault for opening fire on the bus. Both the officers have been suspended and an inquiry ordered against them," the spokesperson said.




The video shot by a motorist clearly shows the bus driver blocking the police car when the latter tried to overtake it.

The patrol officers were identified as SI Shahid Gul and SI Aitezaz. At least one passenger, Gulfraz Khan, and the bus conductor Abdur Rehman were injured in the police firing. Soon afterwards, an attempted murder case was registered against the two officers at the local Nasirabad police station on the complaint of the injured passenger.

While the injured passenger maintained in his complaint that both the officers fled the scene after they found that people had been injured, the spokesperson insisted that they did not escape, rather they took the injured to a nearby hospital and later to the Pakistan Institute of Medical Sciences (PIMS) hospital.

Quetta FC attack: Hero police officer martyred intercepting suicide attacker's car

The Motorway police spokesperson said as per the claims of the two officers, they only shot in retaliation and the first fire was made from inside the bus. However, the local police who arrived and took the bus into their custody said neither the bus carried any smuggled or non-customs paid goods nor was there firing from inside the bus.

Local police said they were awaiting the outcome of the departmental inquiry against the two officers before taking any action. "We have taken the bus into our custody. No smuggled items were recovered from it. There was no firing from the bus," an officer of the Rawalpindi police said.

Watch the video here: