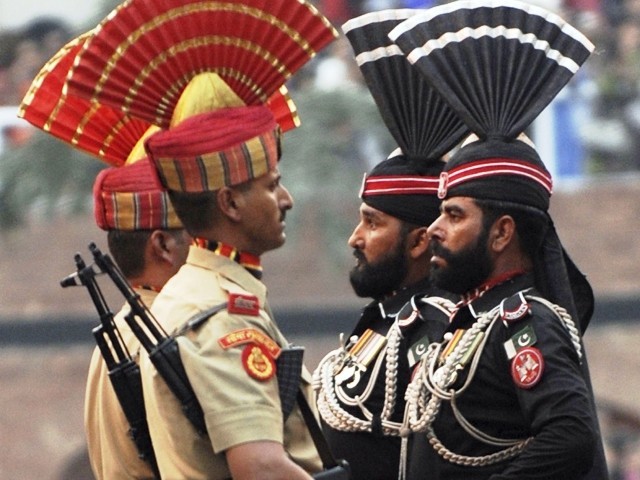 ---
ISLAMABAD: In an unexpected development, Pakistan and India on Tuesday agreed to restore the 2003 ceasefire agreement along the Line of Control (LoC) and the Working Boundary, suggesting a new push to defuse years of tensions.

The decision was taken during a "special hotline contact" established between the director general military operations (DGMOs) of the two nuclear armed neighbours.

An official announcement by the Inter-Services Public Relations (ISPR) said both DGMOs reviewed the prevailing situation along the LoC and the Working Boundary, and mutually agreed to undertake sincere measures to improve the existing situation, ensuring peace and avoidance of hardships to the civilians along the borders.

Hostile bilateral ties will ultimately destroy India, Pakistan: NSA

"Both DGMOs agreed to fully implement the ceasefire understanding of 2003 in letter and spirit forthwith and to ensure that henceforth the ceasefire will not be violated by both sides," the statement further said.

The top military commanders also agreed that in case of any issue, restraint will be exercised and the matter will be resolved through utilisation of existing mechanisms of hotline contacts and border flag meetings at local commander's level.

The unexpected thaw came after weeks-long border clashes between security forces of the two countries, leaving dozens - mostly civilians - dead on both sides of the frontier.

It was not clear what exactly prompted the two sides to agree to a ceasefire. But observers believe that Indian Prime Minister Narendra Modi was under pressure to review his hardline approach towards Pakistan as it has failed to pay any dividends.

Some sources said the two sides were discussing the possibility of ceasefire through back channels and the telephonic contact between the DGMOs was just a formality.

The development came as the five-year tenure of the PML-N government is set to complete on Thursday.

Given Pakistan's preoccupation with elections for the next three months, there is little chance of any dramatic shift in ties between the two neighbours.

However, the two countries may like to reduce hostilities along the border and work on certain confidence-building measures to create better atmosphere.

Recently, A G Dulat, the former RAW chief, suggested the Indian government to invite Pakistan Army Chief General Qamar Javed Bajwa to break the deadlock in the dialogue process.

He made the suggestion while launching the book 'Spy Chronicles' he co-authored with Lt-Gen (retd) Assad Durrani, former head of the ISI.

Pakistan cries foul over India's bid to inaugurate Kishenganga dam

Tensions have been simmering between the two nuclear-armed neighbours since 2016. Both the sides accused the other for the deadlock in the dialogue process.

Pakistan, however, insisted that it was always willing for talks without any preconditions.

India, though, remains adamant that Pakistan must address its concerns on the alleged cross border terrorism.
COMMENTS
Comments are moderated and generally will be posted if they are on-topic and not abusive.
For more information, please see our Comments FAQ