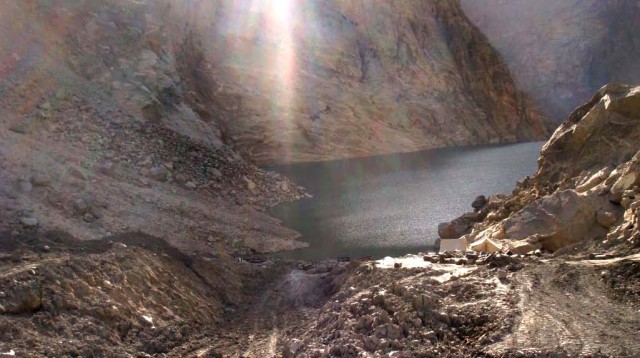 ---
The National Disaster Management Authority (NDMA) has said that water discharge from the spillway of the "landslide lake" in the Attabad area of Hunza Valley is likely to begin anytime.

The lake was formed on January 4 when a massive landslide blocked the flow of the Hunza river at Attabad. The 20-kilomtre-long lake has submerged several upstream villages and destroyed a huge chunk of the strategic Karakoram Highway (KKH). And now it is threatening downstream villages.

"Water discharge from the lake is likely to start anytime because water level is only 1.9 feet below the spillway," said Asif Lodhi, Director-General of the NDMA, Gilgit-Baltistan chapter. "But we are ready to deal with the situation," he told a hurriedly called news conference at his office in Gilgit.

Authorities have already installed close-circuit TV cameras at the spillway to ensure round-the-clock monitoring of the situation. Experts say that if the lake bursts its banks, an ensuing flash-flood can submerge several downstream villages.

Lodhi appealed to the people not to cross over to the "Red Zone" demarcated by experts. He also warned journalists to stay away from the "Red Zone" in view of an ensuing flash-flood. "There will be at least two floods. After one deluge passes, the possibility of another torrent cannot be ruled out, so please don't take a risk," Lohdi told journalists.

He said a large portion of the KKH, from Gilgit to Rawalpindi, will remain open for traffic while from Gilgit to Hunza it has been closed until further orders.

Lodhi told a questioner that Gilgit city would not be affected by an ensuing flash-flood, if the lake bursts its banks. He added that Mujahid Colony, a residential neighbourhood of Gilgit, has been evacuated as a precautionary measure. "Four Chinese camps, set up near the riverbed, have also been removed and there is nothing to worry about," he said.

The NDMA chief said that four helicopters will monitor the flood situation from the air in the night. However, he admitted that it was an uphill task keeping in view the difficult terrain of the region.

He said registration of people displaced by the lake has been completed. "In Gilgit, the number of displaced people is more than 13,500," he said, adding that they were seeking assistance from Nadra for the registration process. He said 26 camps have been set up to house the displaced people.

Published in the Express Tribune, May 29th, 2010.
COMMENTS (4)
Comments are moderated and generally will be posted if they are on-topic and not abusive.
For more information, please see our Comments FAQ