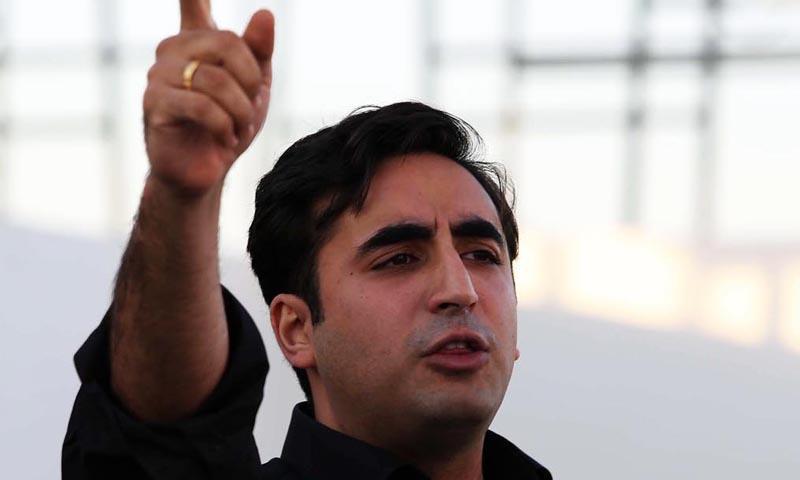 ---
KARACHI:

A day after a clash between the workers of Pakistan Tehreek-e-Insaf (PTI) and Pakistan Peoples Party (PPP) over holding a rally at Hakim Said Ground in Karachi, PPP Chairman Bilawal Bhutto Zardari on Tuesday blamed the PTI for the incident, but invited it to hold its rally at the venue.

The ground turned into a battlefield on Monday night after the workers of the two parties clashed to seek its control. Both the parties planned to hold a rally on May 12 at the same venue which lies in the heart of the city's Gulshan-e-Iqbal neighbourhood.

In the wake of the clash with left dozens injured, the PPP chairman in a series of tweets and a statement said his party's 14 'innocent and unarmed' workers had been martyred on May 12, 2007 during the struggle for restoration of judiciary.

"To pay tribute to our martyrs, PPP planned to hold a Jalsa at Hakim Said ground in District East as most lives were lost in District East," he said, adding that the PPP had applied for and received all necessary legal permissions.

He said the PTI always said they would hold a Jalsa at Mazar-e-Quaid on May 12. He pointed out that while the PPP's preparations were ongoing, the PTI arbitrarily changed their Jalsa venue and set up a camp at its ground "which was a provocative step".

Bilawal said stones were thrown at PPP workers from the PTI's camp.


PTI to back-off if no party allowed to hold rally at Hakeem Saeed Shaheed ground


Our trucks were set on fire. PTI leader's guards fired weapons. More than 20 PPP workers sustained considerable injuries. To attack us in such a way on this tragic day is a sad commentary on the fascist tendencies of the PTI and a complete enquiry should be carried out to hold culprits accountable," he said.

"PTI has shown such an appalling attitude. However, in the interest of peace in Karachi, which we have fought so hard for, I not only ask my party to find another location, but also invite the PTI's Imran Khan to hold his Jalsa at Hakim Said ground," he said.

Soon after Bilawal's tweet, PTI leaders who were earlier adamant to hold the public gathering at the same venue withdrew their decision to organise the event at Hakim Said Ground.

"PTI also offers to keep peace in Karachi [as it is] is much higher than politics. No Jalsa is more important than the peace of our great city," said the PTI's Imran Ismail. "We will not do a jalsa at this ground and choose another location."

After these statements, the tension between the two parties came to an end.

The PPP leaders while addressing a press conference at Bilawal House announced that they would now organise the event in Baghe Jinnah near Mazar-e-Quaid on May 12.

Earlier, PTI chief Imran Khan condemned the incident on microblogging site Twitter and quipped that the incident reflected PPP's fear over PTI's rising popularity

"There will be no rally on this venue. We will announce further course of action in the evening. We are waiting for PPP to respond," said PTI Karachi Division President Firdous Shamim Naqvi. He reiterated that no party should be allowed to use the ground.

Although, both the PTI and the PPP have already approached the police for registering cases against each other, the police while blaming a 'third party' have registered a case against 'namaloom afrad'.

"The third party was responsible for the yesterday's incident," said Aziz Bhatti SHO Humayun Ahmed who is a complainant in a case registered with his own police station over the Monday night riots.

"Namaloom afrad while taking an advantage of the tense situation came and started pelting stones on everyone which turned the verbal fight into a battlefield," he claimed.