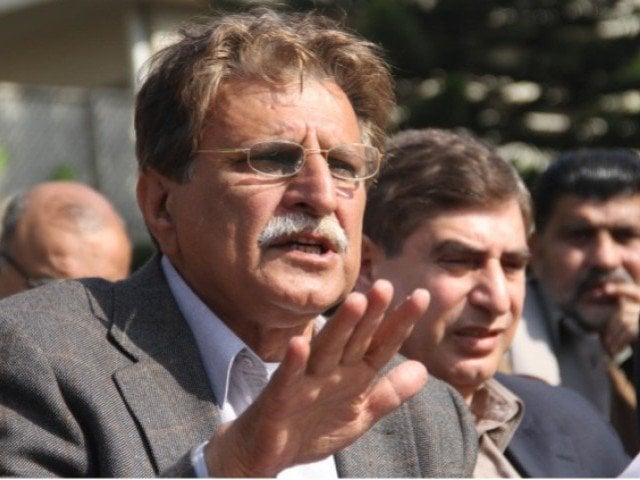 ---
MUZAFFARABAD: Azad Jammu and Kashmir (AJK) Prime Minister Raja Farooq Haider Khan has said that AJK is a peaceful region with centuries-old traditions of tolerance and no one will be allowed to tarnish it by indulging in activities repugnant to the norms of society.

He expressed these views on Saturday after offering condolences with the family of a young student who was killed last week in Muzaffarabad.

The AJK PM assured that the culprits would be dealt with under the law, "no matter which party, clan or group they belong to". Stern action would be taken against those possessing firearms or displaying them in educational institutions, he added.

Morale of people living along LoC higher than Himalayas: AJK PM

He expressed his deep grief over the murder of promising young student and assured the bereaved family that murderers would be brought to justice at all costs.

Khan expressed his firm determination "to purge educational institutions of criminals" and ordered the police to launch an operation in order to cleanse it from criminal elements and illegal arms.

He said the government was contemplating to restore students unions with an aim to provide healthy environment to students. But he added that before restoring them, the government would introduce a code of conduct for political activities in educational institutions.

AJK cabinet approves measures to protect civilian population along LoC 

Earlier, the AJK PM visited the residence of former assistant chief planning Planning & Development Raja Shehraz Qamar in Majohi on the outskirts of Muzaffarabad to offer condolences on his death with his family. He also visited former deputy inspector general of police Sheikh Tahir Qayyum to offer condolences on the death of his younger brother.

Muzaffarabad district president of Pakistan Muslim League-Nawaz Raja Muhammad Arif Khan, Raja Muhammad Naseem Khan, Raja Shehzad Qamar, former secretary to government Mushtaq Hussein Awan, Muzaffarabad Deputy Commissioner Masood-ur-Rehman and Political Secretary Raja Mehmood Khan also accompanied the prime minister during the visits.