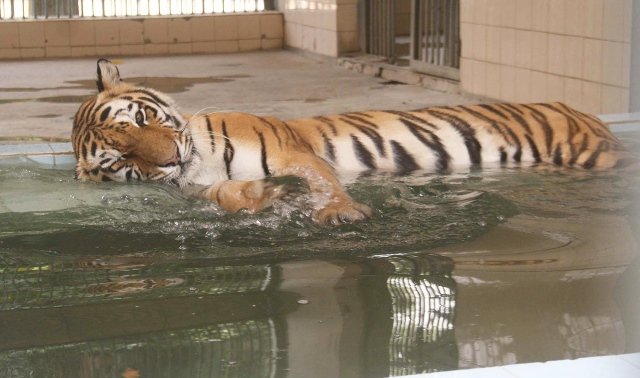 ---
KARACHI: After weeks of rising temperatures, the city was hit by a heatwave on Thursday. The health department issued a red alert for both Thursday and today (Friday) after the Pakistan Metrological Department's warning for the Karachi division.

The warning was issued to the Jinnah Postgraduate Medical Centre (JPMC), National Institute of Child Health (NICH), health services director of all divisions and medical superintendents of all the government hospitals of the city.

Karachi heatwave to continue till Friday, says met dept

The temperature in the port city soared to 44˚ Celsius on Thursday and the Met department has forecast that the heatwave will continue today, with temperatures reaching 42˚C.

"The mercury reached 44˚C in Karachi on Thursday afternoon with an 8˚C rise in a single day as the temperature in Karachi was 36˚C on Wednesday, which is a normal temperature for the month of May," said Metrological Department Regional Director Shahid Abbas.

According to him, the humidity on Thursday afternoon at 5pm was recorded at 21% whereas it was recorded at 78% at 8am.

"The rise in temperature in Karachi resulted due to a shift in wind. The direction of the south-easterly wind has shifted to north-west due to a low pressure developing in upper Sindh," he explained.




However, Abbas predicted that the change in wind direction will be normal from Saturday onwards and result in lowering the temperature in the range of 34˚C for the entire next week in Karachi and coastal belt of Sindh - Badin, Thatta and Sujawal.

According to him, the change in direction of wind also resulted in hazy weather due to suspension of dust particles, resulting in reduced visibility. "The sea breeze resuming on Saturday will blow with more speed and hence will result in more moisture and cloud formation and a general improvement in the weather."

The Karachi health director, commenting on a letter issued by the provincial health department, said that implementation of round the clock emergency is being ensured with all leaves of medical and paramedical staff cancelled. The availability and timely provision of all essential medicines and conducting of health awareness campaigns among masses has been advised, he added.

Karachi Mayor Wasim Akhtar declared an emergency in Karachi Metropolitan Corporation-run public hospitals and clinics across the city and instructed medical staff to take all appropriate measures to handle heatstroke affected patients.

As temperatures rise, sales of lassi skyrocket

Faisal Edhi of the Edhi Foundation and JPMC's Dr Seemin Jamali confirmed to The Express Tribune that no cases of heatstroke related deaths were reported on Thursday.

Dr Jamali advised the residents of Karachi to drink plenty of water and try to balance their electrolytes when the temperature rises in the city. She also said people should wear light coloured clothes and not remain outside unnecessarily in hot weather.

According to the Met department, there are no chances of rain in the city and the temperature usually crosses 40˚C in May.

In Karachi, the highest temperature ever recorded in May was 46˚C, recorded on May 22, 1981. In the months of May and June, Karachi along with other parts of the country will experience frequent heatwaves, warned the Met department official.

On Thursday the maximum temperature in Sindh was recorded in Nawabshah at 45.5˚C, while Dadu recorded a maximum temperature of 45.1˚C, Mohen Jo Daro and Jacobabad 44.5˚C, Larkana 44˚C, Mithi 43˚C and Chorr Cantt 42.2˚C.

Keeping in mind the 2015 heatwave that claimed 1,000 lives, this year residents were seen handing out water to pedestrians and motorists in the city. Welfare organisations set up stalls where they provided free of charge drinks while many took to the streets to hand out beverages to people in vehicles.