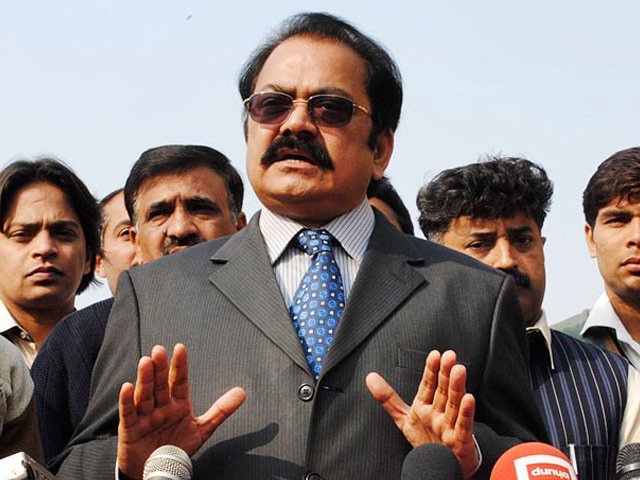 ---
KARACHI: Pakistan Tehreek-e-Insaf (PTI) MPA Dr Seema Zia submitted on Wednesday a resolution in the Sindh Assembly, condemning the misogynistic remarks uttered by prominent Pakistan Muslim League - Nawaz (PML-N) lawmakers against female supporters of the PTI.

Punjab Law Minister Rana Sanaullah, Minister of State for Interior Affairs Talal Chaudhary and Minister of State for Power Abid Sher Ali recently passed sexist comments that have landed them in hot water.

"Sanaullah, Ali and Talal should apologise," the resolution read. It asked the PML-N to take action against the three leaders.

Rana Sanaullah faces resignation calls over misogynistic remarks

PTI MPAs Khurrum Sher Zaman and Samar Ali Khan were also present when the resolution was submitted. They asked all political parties to ensure respect for women. The PML-N had resorted to undignified means after witnessing the success of PTI's Lahore rally, they said.

"Sanaullah is known for his foul language," Dr Zia said, adding that "people like him should not be a part of political parties". The PTI MPA suggested that female PML-N workers should be wary of their leaders.

"He insulted all women of Pakistan, including Fatima Jinnah, Nusrat Bhutto and Benazir Bhutto," she said, calling other parties to come forward and protest against the PML-N leaders.

"Khawaja Asif also used misogynistic language. He has been disqualified. Now, it is time Rana Sanaullah and Abid Sher Ali join his ranks," Dr Zia said.

I'll drag Rana Sanaullah to jail by his moustache: Imran Khan

In a bid to demean the PTI's public gathering held recently at Minar-e-Pakistan, Sanaullah sparked outrage after he raised 'concerns' over the 'character' of the PTI's female supporters.

The comments received severe backlash from all quarters. Taking to micro-blogging site Twitter, PTI Chairperson Imran Khan strongly condemned Sanaullah's statement.