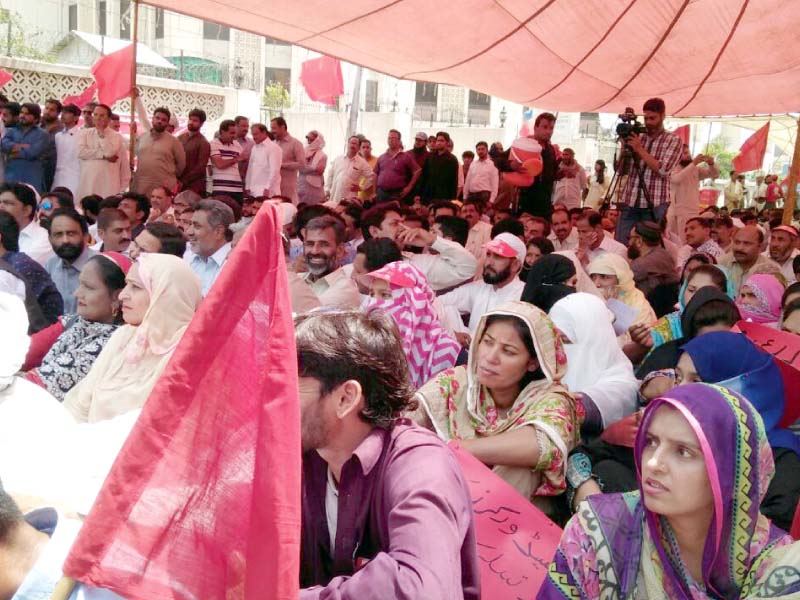 ---
LAHORE: Workers and activists of different labour unions marked the May Day on Tuesday with rallies in Lahore and other cities of the country to press the government to address the issues of labourers.

The city's central rally was taken out from Hamdard Hall Lytton Road to Lahore High Court building under the banner of All Pakistan Trade Union Federation (APTUF).

Holding banners and placards inscribed with diffident slogans and demands, a large number of workers including women from different industrial units took part in the march. A good number of domestic workers were also part of the rally. The participants shouted slogans against inflation, forced labour, unemployment, poverty, contract labour system and exploitation of workers' rights. They called for bringing reforms.

APTUF General Secretary Aima Mahmood and other labour leaders including Sultan Khan, Fazale Wahid, Salma Liaquat, Nasir Mahmood, and Munir Dogar addressed the rally.

Addressing the participants, Aima Mahmood, who also heads Working Women Organisation (WWO), criticised the government for not addressing issues of labourers, farmers, unemployed youth and women workers.

May Day marked across the world

She highlighted the plight of female employees at workplaces. "The government has failed to stop child labour despite tall claims as a large number of children could be seen working in factories, bakery units, brick kilns and other places," she said.

According to her, both the government and the opposition were equally responsible for the plight of labourers. She also blamed political parties for not highlighting labourers and farmers' issues in the policy-making process. "Both sectors," she said, "make around 80% of the country's population." Aima, on the occasion, called for the unity among workers. "Without unity workers cannot succeed in getting their rights. It is a matter of great concern that labour class has badly failed to get their rights in the past decades despite the surge in the number of trade unions in Pakistan. The reason for the failure, she said, was the division among their ranks.

Aima also demanded participation of male and female workers in the policy-making process. "All the government plans in the past for bringing reforms in labour and agriculture sectors badly failed because of the absence of main shareholders (labour unions) in the policy-making process."

Sultan Khan and Fazale Wahid asked political parties to include practical plans for labourers and farmers in their manifestos.

The workers of Railways Workers' Union, Working Women Organisation, Sheheen Workers Union, Miller and Flips Union, Hamdard Union, Ittehad Union, Model Town Society, Labour Colony Association, Unilever Union and others participated in the march.

In another event, representatives of Red Workers Front (RWF) also held a rally at Hamdard hall.

Addressing on the occasion, RWF organiser and employee of WAPDA, Maqsood Hamdani said the workers of Pakistan should think about General Strike as the ruling class was not interested in addressing the issues of labours class.

Published in The Express Tribune, May 2nd, 2018.