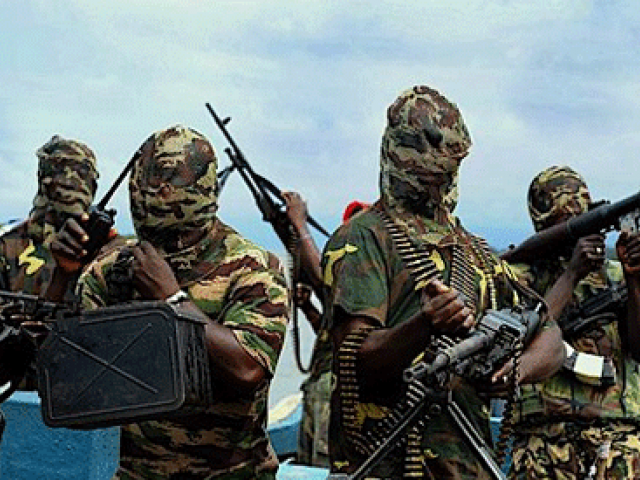 ---
LAGOS, NIGERIA: As Nigeria prepares to mark the fourth anniversary of the Chibok kidnapping, UNICEF reported on Friday that over 1,000 children have been abducted by militants since 2013.

"Since 2013, more than 1,000 children have been abducted by Boko Haram in northeastern Nigeria, including 276 girls taken from their secondary school in the town of Chibok in 2014," said UNICEF in a statement.

"These repeated attacks against children in schools are unconscionable," Mohamed Malick Fall, a UNICEF representative in Nigeria.

20 killed in Boko Haram attack on Nigerian army base, villages

Boko Haram's fight to establish a hardline Islamic state in northeast Nigeria has claimed at least 20,000 lives and displaced more than two million people.

Schools, particularly those with a secular curriculum, have been targeted by Boko Haram, whose name roughly translates from Hausa - the language spoken widely across northern Nigeria - as "Western education is forbidden".

At least 2,295 teachers have been killed and more than 1,400 schools destroyed by the extremists since the conflict started in 2009, according to UNICEF.

While a 2015 offensive launched by Nigerian President Muhammadu Buhari successfully reclaimed swathes of territory back from the militants in Nigeria, the group still stages deadly attacks on both military targets and civilians.

In February, the militants shocked Nigerians by driving unopposed into the northeastern town of Dapchi and kidnapping over 100 schoolgirls.

The response from the authorities - denials then contradictions - was eerily similar to the confusion when the Chibok girls were kidnapped.

Most of the girls have since been returned, but the brazen abduction revived painful memories of the Chibok kidnapping in 2014.

Of the 276 girls kidnapped by Boko Haram from the northeastern town of Chibok on April 14, 2014, over 100 are still missing.

Abubakar Shekau, the mercurial Boko Haram leader responsible for using girls as suicide bombers, has claimed in videos that the girls have converted to Islam and have been "married off".

For those following Boko Haram, the Dapchi kidnapping wasn't entirely a surprise.

Four teen girl suicide bombers launch deadly attack in Nigeria

Over the past year, the militants have ramped up attacks, killing soldiers, kidnapping government workers and terrorising the northeastern city of Maiduguri with relentless suicide bombings.

Under pressure to live up to his election promise of beating Boko Haram, this month Buhari reiterated his support for the release of $1 billion in emergency funds to fight the militants.

Buhari's government has recovered scores of the girls. But the negotiations with the militants - which reportedly involved ransom payments and the release of high-ranking commanders - rankled critics who questioned the wisdom of funding and rejuvenating the ranks of the extremists.
COMMENTS
Comments are moderated and generally will be posted if they are on-topic and not abusive.
For more information, please see our Comments FAQ