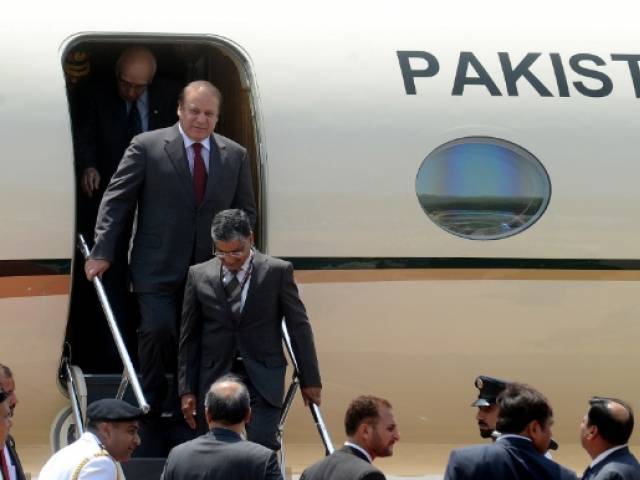 ---
Former prime minister Nawaz Sharif's foreign trips, between 2013 and 2017, cost the national exchequer more than Rs1 billion, reported Express News.

The former premier made 64 foreign trips during his time in office, revealed Foreign Minister Khawaja Asif while submitting a written reply in the assembly on Wednesday.

Nawaz foreign trips cost Rs638 million

The trips cost the national exchequer in excess of Rs1 billion, the reply stated. It also outlined that Sharif undertook 10 foreign trips in 2013, 11 in 2014, 23 in 2015, and 9 each in 2016 and 2017.

Sharif was considered as the de facto foreign minister of the country while he was prime minister, and employed Sartaj Aziz and Tariq Fatemi as his advisers during the period.

Last year, it was revealed that the parliament-shy former prime minister has spent more time abroad than in the assembly.

According to data presented by the Ministry of Foreign Affairs in 2016, the premier spent a total of 185 days abroad during 65 foreign tours with accompanying staff of 631 officers which cost the exchequer Rs638.27 million.

By contrast, the former premier visited the National Assembly just 35 times during his 940 days in power until then.

Preparations underway in Adiala to house high-profile inmate, claims Nawaz

Of all the countries Nawaz visited, he frequented the United Kingdom the most –a whopping 17 times. According to the data provided, he spent nearly two months in the UK, of which 32 days were listed as official stays while 24 were listed as transits.

However, during each transit, the former premier stopped for at least a couple of days which cost the nation Rs137.8 million.

He visited Saudi Arabia five times, followed by the US and China which he visited four times. However, after the UK, Nawaz had spent the most time in the US, visiting the superpower for 18 days.

Turkey was another favoured destination for Nawaz who is known to harbour close ties with the nation. He has visited the country at least once every year.