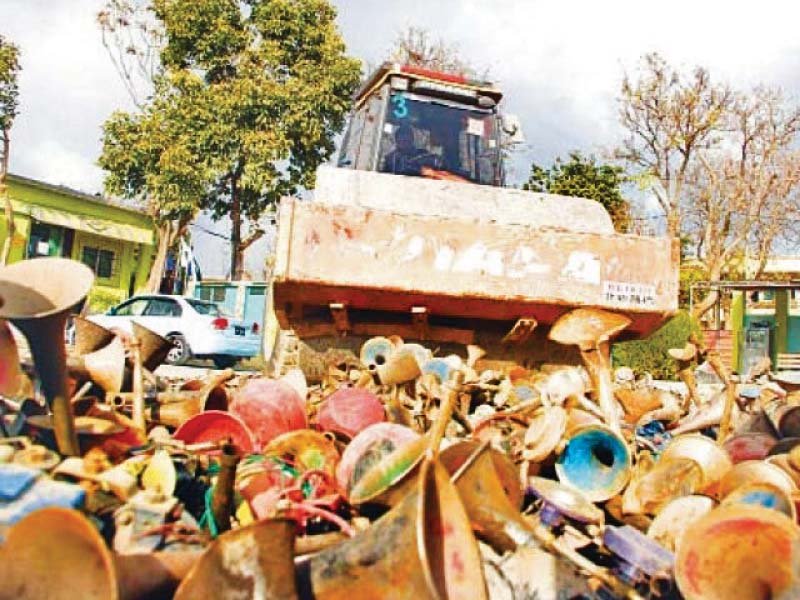 ---
ISLAMABAD: There has been an increasing need to start a massive drive against the use of pressure horns in order to avoid health and environment complications in the twin cities. Noise pollution can be harmful for residents, both physically and psychologically.

Ministry of Climate Change officials have taken steps to decrease the dire impacts of the noise. An initiative had been launched to plant more trees with the expectation that it would act as a barrier for noise pollution to protect residents from its harmful impacts. It was added that the ministry is also taking action against industries and factories creating noise in populated areas.

Shehzad Satti at Aabpara said the menace of noise pollution should be taken seriously and dealt with an iron hand and authorities concerned should not only impose the fine on violators but also seize their vehicles.

Noise pollution: Traffic police bulldoze 4,000 pressure horns

Abid Qureshi from Rawalpindi recounted an incident of loud noise being projected which caused him to suffer a considerable loss of hearing.

Traffic Sergeant Muhammad Javed, urged the people to be civilized while driving their vehicles on roads and asked them to avoid use of pressure horns, open silencers and other noise creating tools.

Dr Wasim Khawaja, a public health expert, warned that noise pollution makes the public more vulnerable to the dangerous diseases like hypertension and high blood pressure.

He added that there was a need to educate people about the health hazards of noise pollution and ask motorists to avoid using pressure horns and other devices that create noise. Furthermore, he stated that due to a lack of awareness many drivers even use pressure horns near hospitals, educational institutions and mosques without considering the negative impacts of this exercise on students and patients.

Furthermore, it can be psychologically detrimental as people who are more exposed to loud noises, also have stronger tendencies to become more anxious and stressed.

Dr Khawaja said it is the prime responsibility of traffic wardens, civil society and every segment of society to discourage this practice and create awareness in public against this socially unethical habit.

Published in The Express Tribune, April 8th, 2018.
COMMENTS
Comments are moderated and generally will be posted if they are on-topic and not abusive.
For more information, please see our Comments FAQ