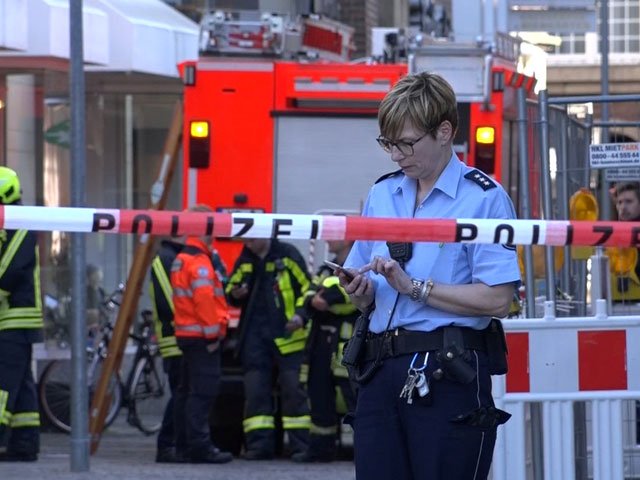 ---
MüNSTER: A man smashed a van into a packed restaurant terrace in Germany on Saturday killing at least two people before shooting himself dead, with authorities ruling out an "Islamist" motive.

Images of the scene showed broken and upturned tables and chairs strewn across the pavement in the centre of the picturesque medieval city of Muenster.

While stressing that the investigation was still ongoing, state interior minister Herbert Reul said the perpetrator was believed to be a German citizen "and not, as has been claimed everywhere, a refugee or something like that".

"There is no indication at the moment that there is any connection," said Reul, who is from Chancellor Angela Merkel's Christian Democrats.




Police block a street near a place where a man drove a van into a group of people sitting outside a popular restaurant in the old city centre of Muenster, Germany, April 7 2018. Muenster Germany, April 7, 2018. PHOTO: REUTERS

At least 20 people were injured, six of them seriously, police said. The assailant was found shot dead behind the wheel of his van.

Media reports said the driver, identified only as Jens R., had a history of mental health problems.

Public broadcaster ZDF said the man had recently attempted suicide while rolling news channel NTV said he had spoken of a desire to bring as much attention as possible to his death.

Police in the university city of 300,000 did not immediately confirm the reports.

"There was a bang and then screaming. The police arrived and got everyone out of here," an employee of the restaurant hit by the terrace told NTV.

"There were a lot of people screaming. I'm angry — it's cowardly to do something like this."

Aircraft crashes in western Germany, two dead

Germany has long braced for more violence after several attacks claimed by the Islamic State group, the bloodiest of which was a truck rampage through a Berlin Christmas market in December 2016 that left 12 people dead.

Armed police were deployed in Muenster after Saturday's incident with officers urging residents to avoid the city centre to allow investigators to get to work amid initial fears the country had suffered another extremist assault.

Merkel said she was "deeply shaken" by the incident "everything possible will be done to determine what was behind this act and to help the victims".

The presidents of Russia and France, Vladimir Putin and Emmanuel Macron, each sent their condolences.

The attack is the latest in a string across Europe in which vehicles have been used to attack crowds of people in public places.

In the Berlin Christmas market attack, Tunisian asylum-seeker Anis Amri hijacked a truck and murdered its Polish driver before killing another 11 people and wounding dozens more by ploughing the heavy vehicle through the festive market in central Berlin.

He was shot dead by Italian police in Milan four days later while on the run.

Germany has since been targeted again in attacks with radical motives.

In July 2017, a 26-year-old Palestinian asylum seeker wielding a knife stormed into a supermarket in the northern port city of Hamburg, killing one person and wounding six others before being detained by passers-by.

A court last month sentenced him to life in prison, finding he had had a "militant" motive.

IS also claimed responsibility for a number of attacks in 2016, including the murder of a teenager in Hamburg, a suicide bombing in the southern city of Ansbach that wounded 15, and an axe attack on a train in Bavaria that left five injured.

Germany remains a target for militant groups, in particular, because of its involvement in the coalition fighting IS in Iraq and Syria, and its deployment in Afghanistan since 2001.

German troops in the anti-IS coalition do not participate in combat operations but support it through reconnaissance, refuelling and training.

Germany's security services estimate there are around 10,000 radicals in Germany, some 1,600 of whom are suspected of being capable of using violence.

Merkel has allowed in more than one million asylum seekers in the past two years — a decision that has driven the rise of the far-right Alternative for Germany (AfD) party, which charges that the influx spells a heightened security risk.

IS also claimed several similar attacks in Europe, including a rampage along Barcelona's Las Ramblas Boulevard in August 2017 that killed 14 and left more than 100 injured.

The deadliest such incident in recent years was in the French resort city of Nice in 2016, where a man rammed a truck into a crowd on France's national July 14 holiday, killing 86 people.
COMMENTS
Comments are moderated and generally will be posted if they are on-topic and not abusive.
For more information, please see our Comments FAQ