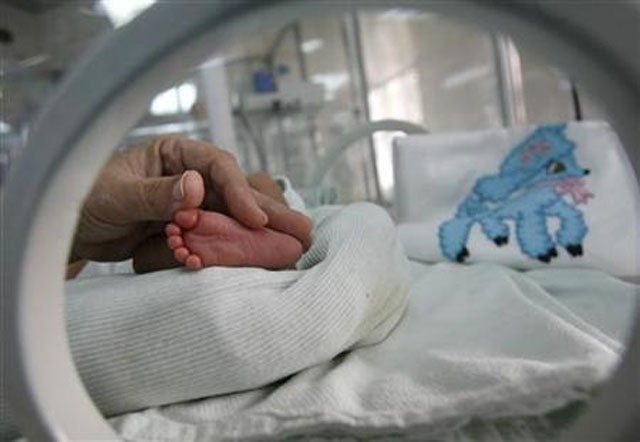 ---
LAHORE: "Of course, she is not a common girl, No one gives her dolls nor is she interested in playing with other children. Our relatives call her a resource-draining 'witch'. On all family occasions, she would just lay in bed. Yes, her cancer has reached the last stage."

Her mother Ghullam Fatima recalls the hatred towards her one-year-old daughter Laiba. "When I gave birth to a baby girl, my in-laws were not happy since the very first day. They did not accept my daughter. Actually, they wanted a boy instead."

The mother states that when the infant was six months old, she developed an abnormal enlargement in a part of her left leg. We immediately rushed her to a nearby clinic which was not able to diagnose the symptoms. Later, we took her to a faith healer to show that something unusual was happening to my daughter's body."

Please save my son, appeals ailing cancer patient's father

She remembers running from pillar to post for her daughter's treatment and her husband even lost his job. However, there was no cure or solution in sight. "Seeing this situation, my in-laws call her witch or churail who has eaten all the family resources," she adds. "Of course, the prejudice is obvious as they never accepted the fact that their grandchild was a girl," the mother bemoans.

Her father Muhammad Sadiq, a labourer by profession, used to share a small house with his brothers and parents. He tells The Express Tribune all the family members have abandoned them. "They have told me not to return home unless I leave my child.

We have shifted to my wife's father home and later ended up at Shaukat Khanum Cancer hospital where doctors diagnosed my daughter as being in the last stages of cancer.

Dr. Syed Ali Shazif from Shaukat Khanum hospital, who is treating the child, says the patient has been diagnosed with 'undifferentiated sarcoma' of the left thigh. He adds that since the child is at a very young age, there is no treatment.

He says the disease's outcome is unknown due to its rarity at such a young age. However, we are giving her Neoadjuvant chemotherapy which means giving chemo before surgery or radiation. However, neither surgery nor radiation are possible due to the very young age.

Battling disease: Extended phase of cancer project launched

"We are trying our best. If they had approached us early, there might have been a better chance to save her life," he added.

The girl's birthday is on March 22 [today] and the family have left the hospital for two days to celebrate. "I don't know if she will see her another birthday, but my message to all is never give up."

Warning against believing in faith healers or quacks if your loved-ones fall victim to any disease, he said: "Immediately try to contact qualified doctors, otherwise, you may lose your loved ones."

"All family members and the community have urged me to let her die as she is a witch after all. I, on the other hand, consider her a gift and will never lose my faith in God. I also expect my society to accept daughters, educate them and love them till their last breath."

Published in The Express Tribune, March 22nd, 2018.
COMMENTS
Comments are moderated and generally will be posted if they are on-topic and not abusive.
For more information, please see our Comments FAQ