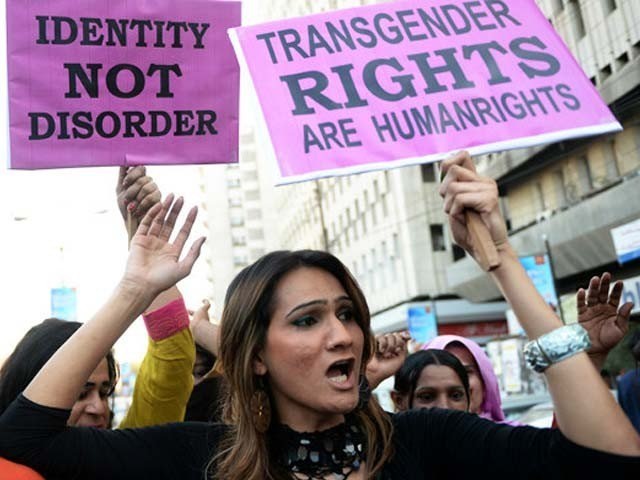 ---
ISLAMABAD: For the first time in the history of Pakistan, the transgender and intersex community has drafted a manifesto for general elections, in order to have a right to represent and an inclusive political participation in the upcoming elections.

TransAction along with its sister alliances working for the well-being and protection of the transgender and intersex community after having consulted with stakeholders and some political parties has drafted a "Transgender and Intersex Community Election Manifesto 2018"— copy of which is available with The Express Tribune.

It has been chalked out in the manifesto to put issues of the transgender community on the political agenda before the 2018 polls, in a step to let their voice be heard on a national platform.

Moreover, it also calls for equal participation in the electoral process, formulating policies for the empowerment of the community both at provincial and federal level, discouraging discrimination, and ensuring equal rights to them among others objectives.

The document presents a unique opportunity for Pakistan to continue its reform momentum and advance its democratic transition.

It is a known fact that in our country, the transgender community has indeed been struggling hard to get recognition and even the basic rights as every other citizen of the country. Therefore, this proposal will help them get their issues heard by all political parties and whoever shall be elected could implement them.

Senate passes bill to ensure rights of transgender persons

Furthermore, the document contains a list of 33 demands and recommendations, such as seeking to review the constitutional and legal instruments on the statute book that puts gender variant minorities in a disadvantageous and vulnerable position.  The list also includes, permitting the community to hold political demonstrations and participation in mainstream politics.

The transgender and intersex community has also demanded that affirmative actions shall be taken to support and facilitate them to directly contest constituencies in the elections for local, provincial and federal level democratic institutions.

"Transgender and Intersex Community Election Manifesto 2018' is expected to be launched by the end of this week", said member CM special committee on the rights transgender person, Khyber-Pakhtunkhwa (K-P), Qamar Naseem while talking to The Express Tribune.

Naseem also added that the Transgender Election Network has also been established for ensuring equal participation of the community in the upcoming general elections.
COMMENTS
Comments are moderated and generally will be posted if they are on-topic and not abusive.
For more information, please see our Comments FAQ