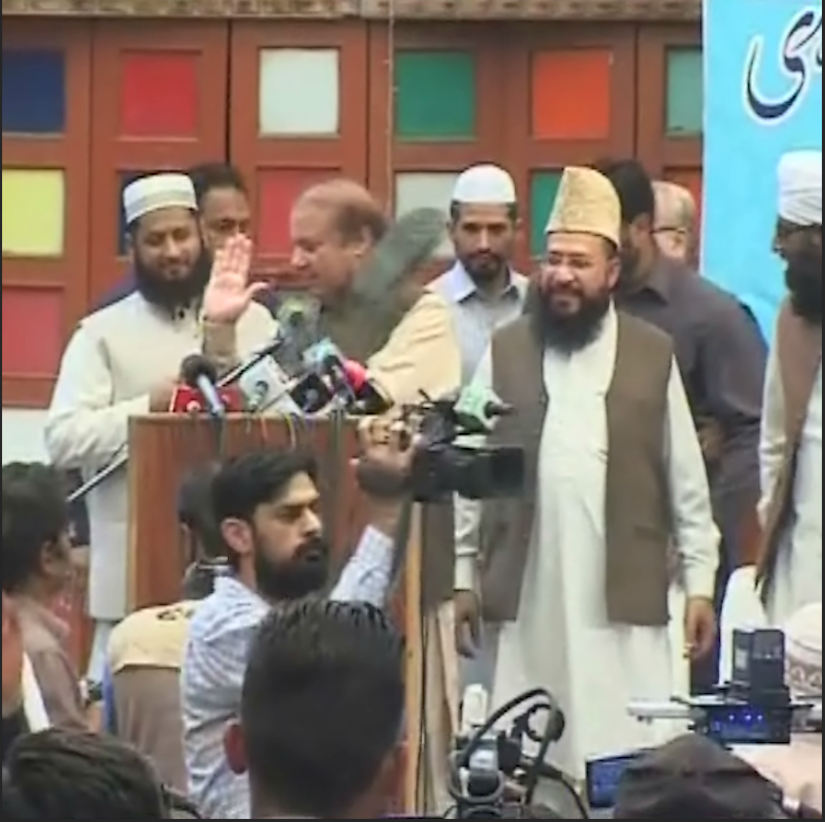 ---
LAHORE:

In unusual occurrences, two men lobbed shoes at former prime minister Nawaz Sharif but one hit him while he was about to begin addressing a gathering in Lahore on Sunday.

Soon Pakistan Muslim League-Nawaz (PML-N) chief reached the podium to deliver a speech at an event organised by the Jamia Naeemia, which was set up at an outer area of the madrassa, a man hurled his shoe at Nawaz, hitting him between the neck and shoulder.

He then jumped on the stage and raised slogans in favour of Mumtaz Qadri , the killer of Punjab Governor Salman Taseer, before fainting as the crowd jostled him.

Meanwhile, another man hurled his shoe at the former premier, nearly missing him. It hit a man standing behind the PML-N leader.

The Punjab Police have taken both the suspects into custody.


Watch: Man arrested for throwing ink at Khawaja Asif in Sialkot


On Saturday, a man was taken into police custody after he threw ink at Foreign Minister Khawaja Asif during his speech at a PML-N workers convention in Sialkot.

Asif, however, directed the concerned authorities to release the suspect, saying he did not have any personal enmity with him, adding that the man must have carried out the act on behest of someone in return for some money.
COMMENTS (2)
Comments are moderated and generally will be posted if they are on-topic and not abusive.
For more information, please see our Comments FAQ