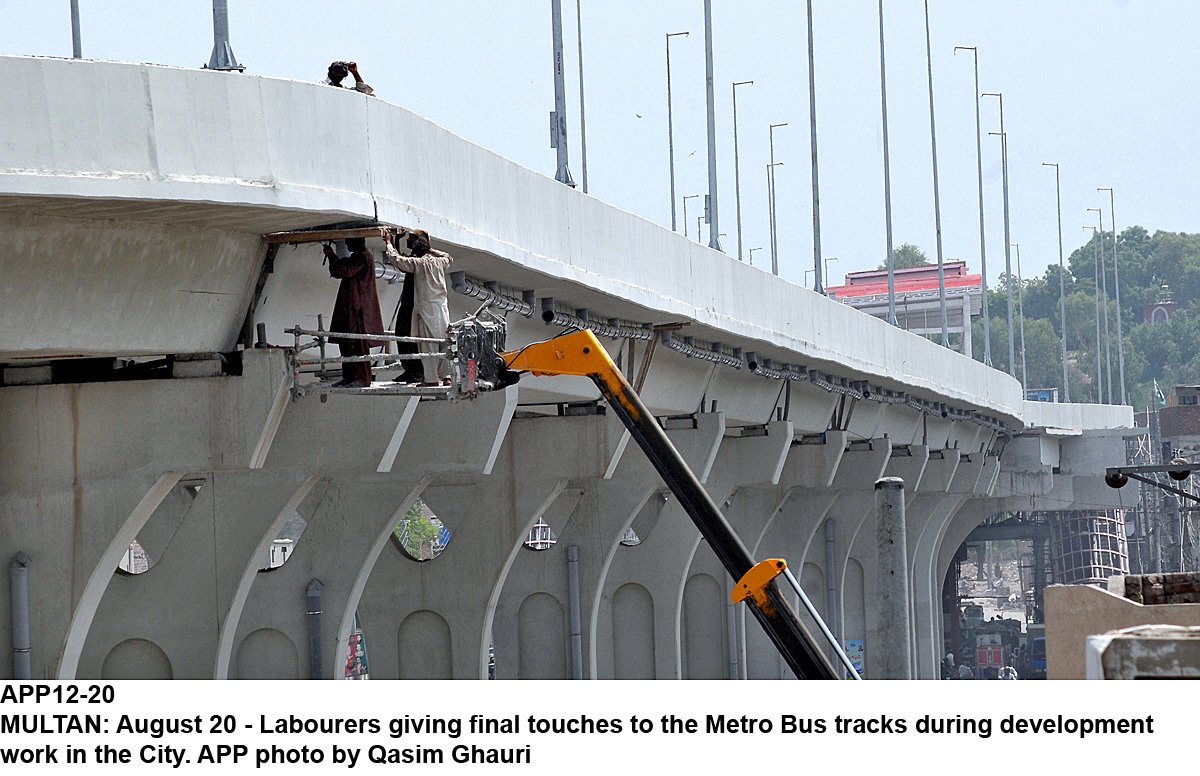 ---
LAHORE: Two more train sets for the Lahore Orange Line Metro Train (OLMT) project reached Pakistan. A total of 21 trains have reached Pakistan so far, said Punjab Chief Minister's Advisor and OLMT Steering Committee Chairman Khawaja Ahmad Hassaan.

He was presiding over the project's weekly progress review meeting held on Wednesday

After successful completion of elevated viaduct section of the OLMT package-1 (from Dera Gujjran, GT Road to Chaburji), Hassaan said. He added that now the focus has been shifted to project's package-2 (from Chaburji to Ali Town) where efforts have been geared up for completion of remaining construction work of viaduct during the next week.

He highlighted that so far 772 out of the total 804 u-tub girders have been installed on package-2, along a 13-kilometre stretch. The remaining 32 u-tub girders would be fixed on transoms during next week. Construction of 13 elevated metro train stations along this stretch have also been completed to a great extent where average 80% of development works have been accomplished on each station.

He said Chinese contractors, CR-NORINCO, have also deputed additional workforce for carrying out civil works at these places at a faster pace in order to complete development task at the earliest.

National Engineering Services Pakistan (NESPAK) General Manager Salman Hafeez told meeting participants that so far 85.9% civil works of the project have been completed. The progress of work on package-1 is 89.99%, on package-II 79%, on depot near Dera Gujjran 86.55% and on stabling yard near Ali Town, it has touched 87.83%. Progress on electrical and mechanical work on the project has reached nearly 47%, he maintained.

The meeting participants were told that half of the work for construction of the roof of underground General Post Office (GPO) station has so far been completed while remaining work would be completed within the next few days for opening the GPO Chowk for traffic by March 31. The GPO station is eight meter below the ground level and spread over an area of 22 kanals.

Anarkali Station's 3D model, inspired by Mughal architecture, was also displayed to the meeting participants. The Anarkali Station is being rapidly constructed at Jain Mandar Chowk.

Hassaan directed the NESPAK and Parks and Horticulture Authority for chalking out a

comprehensive plan for beautification and traffic circulation in the busy commercial areas surrounding these two stations.

Lahore Development Authority (LDA) Chief Engineer Asrar Saeed, Traffic Engineer and Transport Planning Agency's (TEPA) Chief Engineer Mazhar Hussain Khan, senior officials of LESCO,

Published in The Express Tribune, March 8th, 2018.
COMMENTS
Comments are moderated and generally will be posted if they are on-topic and not abusive.
For more information, please see our Comments FAQ