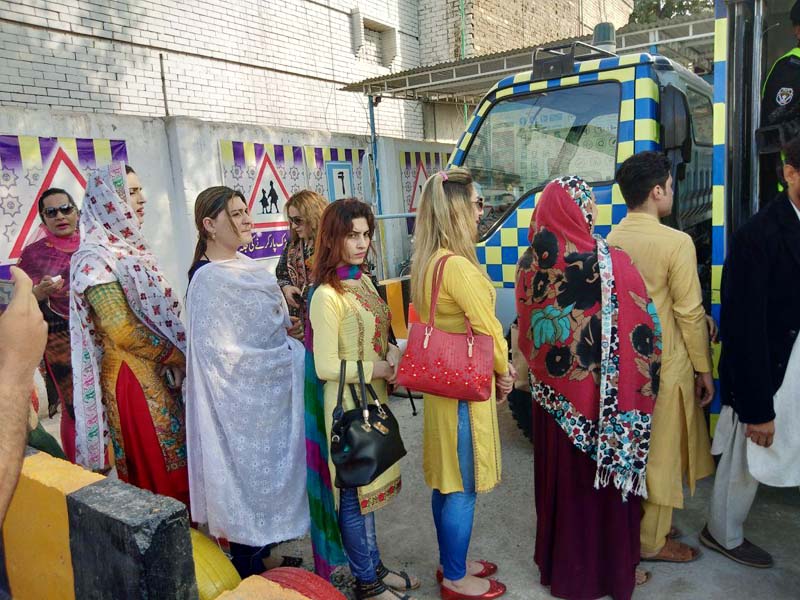 ---
PESHAWAR: In a first, the Khyber-Pakhtunkhwa traffic police formally granted 30 people who are transgender driving licences apart from giving them driving lessons.

People who are transgender have welcomed the move which would make their mobility easier, noting that this was just the beginning of their battle for equal rights.

The licences were handed over in a ceremony held at the Khyber-Pakhtunkhwa (K-P) Traffic Police Headquarters while respecting their self-assumed gender identity and existing identity cards.

Farzana Jan, who is a transgender person and actively campaigns for rights of her community under the banner of TransAction in the province, was among the first to be handed the new driving licence.

"Today is another victory for trans people and human rights in K-P," Jan said during the ceremony.

"This is not the end of our battle, it is just the beginning," the transgender activist said who was the first to receive the computerised identity card (CNIC) from the National Database Registration Authority (NADRA) with the 'X' gender marking. She is also the first transgender in the country to receive a passport with the 'X' gender identity marking.

Arzu Khan, another person who is transgender and the general secretary of the TransAction Alliance, said that she was grateful to the allies and supporters in the government and the civil society in backing their demand for equal rights.

"Getting a driving licence was a dream for me and I am glad that this dream has come true," she said.

"For people who are transgender, 'ID anxiety' is almost a daily struggle," said Qamar Naseem, the programme coordinator for Blue Veins and a member of the Chief Minister's Special Committee on Rights of Transgender Persons.

"Allowing people to update their gender markers and giving them legal identities with their desired gender can reduce the risk of harassment and the discrimination they experience when their physical appearance does not match the gender on their ID," Naseem said, as he went on to hail the landmark achievement.

Taimur Kamal, a coordinator for the Peace Justice and Youth Organization, said that people who are transgender have to undergo a number of invasive and at times even offensive medical procedures when attempting to change their name or gender on their driving licences in even advanced regions such as Europe.

"The world has to learn from K-P which has been quite progressive about the 'right to respect for private life," Kamal said.

The K-P government is currently in the process of finalizing its transgender protection policy which calls on the provincial government to ensure access to friendly public transportation for people who are transgender. Moreover, state laws clearly prohibit treatment which makes public transportation inaccessible to people who are transgender and other vulnerable communities.

Meanwhile, traffic police officials promised to take action against those public transport vehicles who charge extra, harass or deny services to the transgender community or any other vulnerable population.

Peshawar SSP Traffic Yasir Afridi affirmed that people who are transgender are equal citizens the country.

"We respect their [people who are transgender] identity and expression," SSP Afridi said, adding that they were glad that the provincial government was once again leading in opening its heart to people who are transgender.

"It is hard enough to navigate the world as a person who is transgender. The least we can do is ensure that your driver's licence does not have to make it any harder," he added.

To help people who are transgender to become mobile, the traffic police have decided to organise a separate driving class at the Peshawar Cantt Police Driving School for people who are transgender.

Published in The Express Tribune, March 6th, 2018.
COMMENTS
Comments are moderated and generally will be posted if they are on-topic and not abusive.
For more information, please see our Comments FAQ