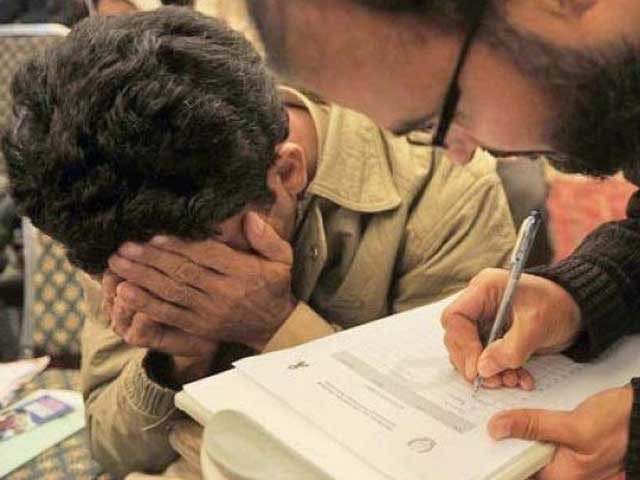 ---
35 people from the village of Kot Imranah, located near the Kot Momin Interchange in central Punjab, have tested positive for HIV/AIDS, according to the BBC.

The corporation warned the number could rise as more people came forward to get tested. According to the report, the Punjab government had organised a camp for over 4,000 people in the area under the AIDS Control Programme in February.  Over 2,700 blood samples, collected over one week were sent to Lahore for tests.  Of these, 35 tested positive for HIV/AIDS, a report by Lahore authorities said.

132,000 people living with HIV/AIDS in Pakistan: survey

Punjab Primary and Secondary Health Minister Imran Nazir warned the number could rise. He said a dedicated health unit had been established in Kot Momin for HIV/AIDS patients.

The prevalence of the virus in the area has been attributed to local Chaudhry Akram who alerted Chief Minister (CM) Shehbaz Sharif in a letter. The CM then directed authorities to establish a health camp in the area.

In his letter, Akram said many had been seeking medical attention for hepatitis and tuberculosis over the past year. He said their health woes had not been remedied despite regular medication. Consequently, 200 people had lost their lives, according to Akram.

HIV—Aids diagnostic centre set up in BBH

The deaths forced authorities into action and many patients were admitted to the Sargodha District Hospital. Sikander Hayat of the hospital's Special Medicine Clinic said the health department also conducted a district-wide survey after discovering the myriad of HIV/AIDS cases.

The findings of the survey revealed that quack Allah Ditta had been using a single syringe to 'treat patients' over years. Ditta himself died of HIV/AIDS a few years ago, according to the findings. The survey results also pinned blame on poor cleanliness standards across barber shops for the spread of HIV/AIDS.
COMMENTS
Comments are moderated and generally will be posted if they are on-topic and not abusive.
For more information, please see our Comments FAQ