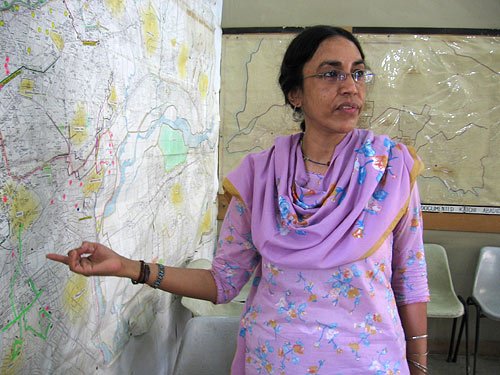 ---
ISLAMABAD: The Supreme Court on Wednesday said it will closely monitor the progress of the newly-constituted Joint Investigation Team (JIT) to investigate the Perveen Rehman murder case.

A three-judge bench, headed by Justice Azmat Saeed Sheikh, heard a petition filed by the Human Rights Commission of Pakistan against the Singh government and others for failing to catch the culprit behind the murder of Rehman, the director of Orangi Pilot Project.

The petition stated that there were "material mistakes made by the initial investigating officer as well as the concerned SHO which adversely affected the merits of investigation."

During the court proceedings, Additional Advocate General Singh Qazi Shaharyar submitted a report wherein it was stated that the Singh Government had constituted a new JIT, comprising officials of the police, intelligence agencies, Counter-Terrorism Department, Rangers and Federal Investigation Agency, on February 24 – five years after the killing.


Another JIT formed in Perween Rahman's murder case


"It is an embarrassment for the Sindh government as well as the court that the real culprits could not be identified," observed Justice Azmat. "Tell your government that we will go to bottom of the case."

Addressing the federal and provincial law officers present at the hearing, he said: "We will keep our eyes on the JIT."

While the JIT had already held one meeting, it sought time to complete the investigation.

However, Aqeela, sister of Rehman, who also appeared before the bench, requested the top court to outline a specific time to the JIT to complete its probe.

The top court directed JIT to proceed in a fair manner and identify real culprits who confused the case.  The bench added that it will supervise the probe.

The hearing has been adjourned till April 21.

Rahman, who had started the campaign against encroachment on amenity plots and land grabbing in the city, was shot dead in Orangi Town.

In May 2016, the police had claimed that they had arrested the prime suspect, Rahim Sawati, a local leader of the Awami National Party (ANP) involved in criminal activities from Manghopir area, and recovered 9mm pistol and hand grenade from his possession.

Before that, the police claimed to have killed Qari Bilal of the Tehreek-e-Taliban Pakistan in March 2013, announcing that he killed Rahman. Then West DIG Javed Alam Odho had announced this at a press conference, causing rights activists to express their concern over the impartiality of the investigation.