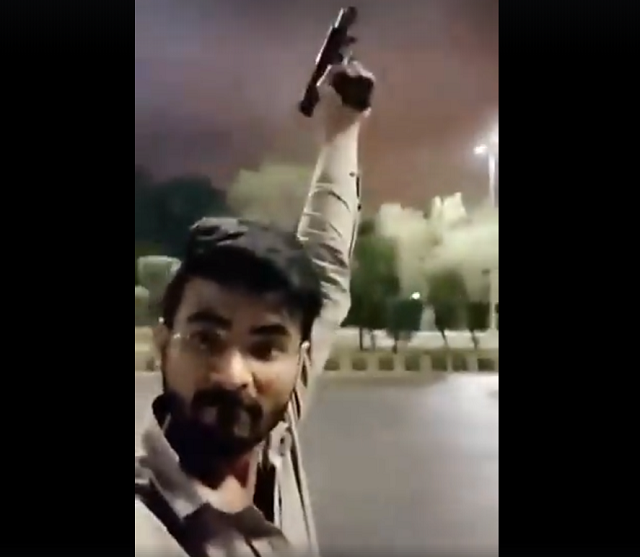 ---
KARACHI:

Police registered a case against on Sunday a suspect who was seen in a viral video firing in the air on Sharae Faisal and threatening anyone who challenged him.

Though the police have registered a case against Adnan Pasha, he remained at large while, in another video that went viral on social media, he admitted to his crime and apologised for his actions.

The case was registered against Pasha at the Bahadurabad police station under sections 504 and 506 of the Pakistan Penal Code on behalf of the state.

Despite conducting raids at his residence in Gulistan-e-Jauhar and those of his relatives, the police failed to locate the suspect. However, around half-a-dozen people were detained by law enforcers for questioning and to pressure the suspect to surrender to the police.






In the second video released by Pasha on Sunday, the accused admitted to the crime and apologised. However, he immediately followed his apology by blaming Zeeshan Saeed aka Shani for the incident. "Zeeshan Saeed is my father's killer," he claimed in his second video. "I didn't threaten anyone. I admitted that I did something wrong and it should not have happened. But i did it to show my anger over Zeeshan Saeed. I know my way of expression was not right."






In the three minute and 44 second-long video uploaded on social media by the accused from an undisclosed location, Pasha said that his father was killed about 10 years ago. "I respect my country and its government. Since i did it [fired in the air], everyone, including the media, is highlighting me. My question is this: have I really committed a big crime?" he questioned. "Why was such quick action not taken against my father's killer in the last 10 years? I admit that I was wrong, but I didn't commit a major crime," he justified.



Viral video of man firing shots on Karachi's Shahrae Faisal emerges

Earlier on Sunday, Pasha was seen tossing a pistol on main Sharae Faisal to prove that he was indeed on Karachi's most traveled route. He then went onto hurl abuses and then fired two aerial shots.

After the video viral on social media, Home Minister Sohail Anwar Siyal and Inspector-General of Police Allah Dino Khowaja took notice of the incident asked the East DIG to take action.
COMMENTS
Comments are moderated and generally will be posted if they are on-topic and not abusive.
For more information, please see our Comments FAQ