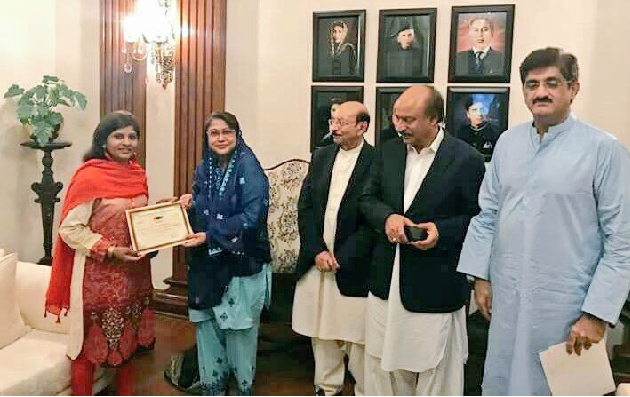 ---
KARACHI: Pakistan Peoples Party (PPP) has nominated Krishna Kohli, who is known to be the first ever Dalit woman to be shortlisted for Senate elections.

PPP had previously elected first Hindu woman named Ratna Bhagwandas Chawla as a senator.

Media cell of PPP has clarified news items published in sections of both national and international news mentioning Krishna Kohli as the first woman from Hindu community to have been nominated by PPP as a senator saying Chawla was the first Hindu woman as Senator in 2006.

Speakers praise Ambedkar's struggle for equal rights

However, Kohli is the first-ever Dalit woman nominated by the Pakistan Peoples Party for the Senate seat. Kohli caste is mentioned at No.23 in the Pakistani Schedule Castes Ordinance-1957.

Dalit, which means oppressed or broken people, has become an alternate collective identification for the 40 non-Muslim castes declared in above ordinance 60 years ago.

PPP also nominated the first-ever non-Muslim senator by electing a Dalit Dr Khatumal Jeewan as Senator in 2009 on a general seat. Likewise, Engineer Gianchand is the second Dalit to be elected as Senator in 2015 by the PPP also on a general seat.

Dalit man, mother brutally beaten by cow vigilantes in India

Bilawal Bhutto Zardari also nominated and got Hariram Kishorilal elected as a senator on the seat reserved for non-Muslims from Sindh in 2012.

With the nomination Kirshna Kohli and Anwar Laldean, a Christian senior worker of the party, the number of non-Muslims elected so far as Senators by the PPP would grow to six, an unmatched representation in the Upper House for minorities by any other political parties in the 70 years history of Pakistan.