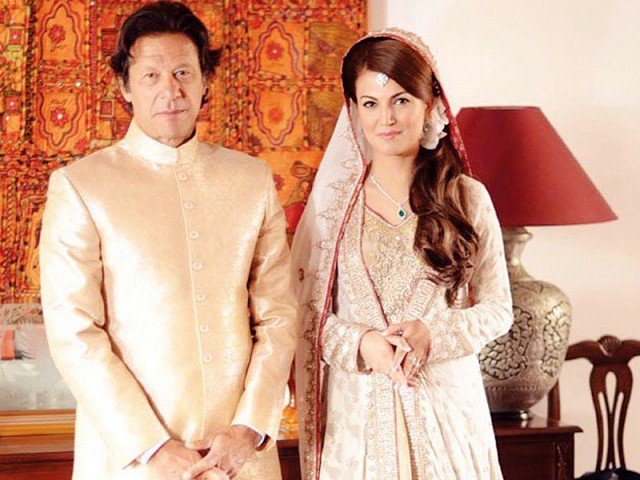 ---
Reham Khan, Pakistan Tehreek-e-Insaf (PTI) chairman Imran Khan's second wife, has claimed that her ex was seeing Bushra Wattoo – the newly-wed  bride of Imran – while he was married to her.

Bushra is the third wife and spiritual guide of the PTI chief, who tied the knot with her in a private ceremony in Lahore on Sunday.

Reham, whom Imran divorced 10 months after getting married in 2015, claimed during an interview with The Times that the cricketer-turned-politician was having a long 'extramarital affair' with his current wife that continued while he was married with the former BBC weather girl.

Imran may be hiding his third marriage for personal reasons: Reham Khan

"Imran Khan was in contact with Bushra three years ago when I was his wife and he is not the truthful man," she said.

Reham went on to say that the marriage took place nearly two months ago and Imran was lying about his wedding that occurred on Sunday. "I knew they married on January 1, and he revealed it later, this is exactly what he did after marrying me and then announcing after two months," she remarked.

Reham Khan leaves country after 'receiving threats'

She later took to Twitter to further clarify that both Wattoo and her ex-husband, as well as Khan's staff, had confirmed that Khan had met his new wife while married to his second.


No, these are the words of those who have been Pir & Mureed.
Both confirmed he was taking instructions for the last 3 years.
Ex-husband of Pir confirmed it too.
I was his wife at the time. #Fact https://t.co/hp4MKaGl9D

— Reham Khan (@RehamKhan1) February 20, 2018


The claims came as Imran-led party was preparing to contest the general election to be held in July this year.

PTI spokesperson Fawad Chaudhry told AFP the couple had known one another 'for a long time' but declined to provide further details.

Imran Khan ties the knot for a third time

The PTI chief was previously married to British socialite Jemima Goldsmith in 1995. He had two sons with her before the relationship ended in divorce in 2004. He then married Reham in 2015, but the marriage ended after just 10 months.