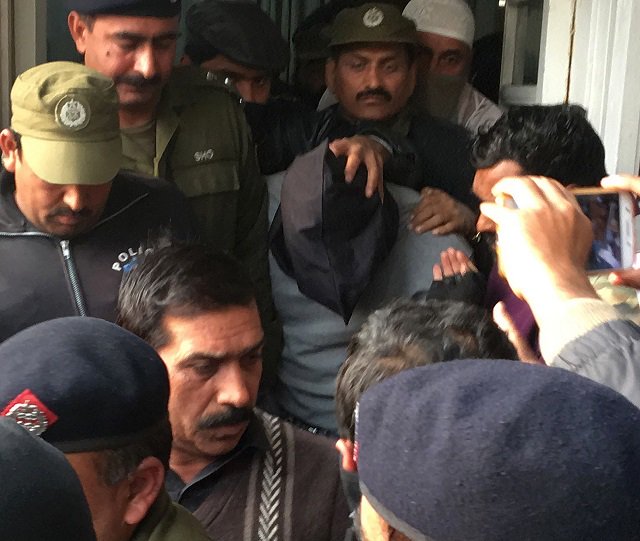 ---
LAHORE: The murderer and rapist of the seven-year-old Zainab Imran Ali on Tuesday challenged the Anti-Terrorism Court's (ATC) verdict that convicted him in the Lahore High Court (LHC).

The accused was awarded death sentence on four counts, life imprisonment, seven year jail term and imposed total fine of Rs3.1 million and Rs1million compensation to the legal heir of the deceased.

Currently, the law provides 15 days to the convict to move an appeal against his conviction before the Lahore High Court. If the appeal is turned down then the convict can approach the country's top court for redressal of his grievances. He may also move a mercy appeal before the president.



ATC announces death sentence on four counts to culprit in Zainab rape, murder case

In his appeal, the convict has contended that he is not guilty and claimed that the trial was conducted in haste and legal requirements which needed to be fulfilled were fully ignored. He appealed the court to overturn the ATC's verdict.

On the other hand, the Jail officials in their application to the Lahore High Court enclosed the jail appeal along with an attested copy of judgment of un-confirmed prisoner cited as subject for kind perusal.

The jail superintendent further requested them to communicate the appeal number allotted to the captioned jail appeal for completion of the record and satisfaction of the prisoner as well.



Protests erupt as two teenage girls abducted in Multan

ATC Judge in his February 17 85-page judgment awarded death penalty to convict on four counts.

The convict was also awarded death penalty under section 7 (a) of Anti-Terrorism Act 1997 and imposed fine Rs1 million, under PPC sections 364-A (kidnapping) and 376 (raping) with fine Rs1 million and 302-B (murdering) the convict was ordered to pay compensation of Rs1 million to legal heirs of deceased.

Zainab murder case: Prime suspect's counsel decides to back out

The rapist was also awarded life imprisonment under section 377 of PPC (unnatural offence-whoever voluntarily has carnal intercourse against the order of nature with any man, woman or animal) with fine Rs1 million. The murderer was further awarded seven year imprisonment under 201 of PPC (causing disappearance of evidence of offence, or giving false information to screen offender) with fine of Rs100,000.