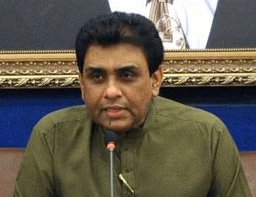 ---
Rifts continue among Karachi chapters of Muttahida Qaumi Movement-Pakistan (MQM-P) as party's Bahadurabad group filed a petition in the Election Commission of Pakistan (ECP) against its counterpart from PIB area for holding intra-party elections, Express News reported on Tuesday.

Held under the leadership of MQM leader Farooq Sattar, an intra-party election of the Rabita Committee (Coordination Committee) was held on February 18 in Karachi's PIB area -- an election that he won by a heavy margin, becoming the party convener. However, his opponents from the Bahadurabad group, also where the coordination committee is headquartered, rejected the polls and the result.

Sattar wins intra-party elections

Rabita Committee Convener Khalid Maqbool Siddiqui from the Bahadurabad group, along with party member Farogh Naseem filed a petition on Tuesday morning, calling the February 18 intra-party election invalid, claiming it was not the official elections of MQM-P.

The petition said that Sattar had no rights to hold the elections and dissolve the committee as he had been removed from the post of convener on February 11. "That election might have been for some other group," it said.

The petitioners further accused Sattar of conducting the poll using fake electoral rolls.

In an informal talk with the media after submitting the petition, Naseem speculated the PIB group does not belong to MQM-P but could be a Tessori group or something else.

'Won't let MQM-Pakistan get divided'

On the other hand, while talking to the media, MQM-P leader Farooq Sattar of the PIB group said he wants a "clean MQM with educated people", and that he wants to visit the Bahadurabad group but without any terms and conditions.

"Please make the Bahadurabad group understand to not divide the party like this and let me come there without any terms and conditions. I promise I will not let MQM-P be divided."

Senate polls: ECP denies receiving MQM-P Rabita Committee letter for withdrawing Sattar's nominees

He said he will let go of his 'politeness' today. "I have a formula, we should sit together and discuss this," he added.

"The party's centralisation is getting affected, and the party members and I are unable to work. The Bahadurabad group should accept the referendum party workers held on Sunday," Sattar said.

"A Liaquatabad that used to scare Islamabad is now falling prey to the scheming from its own people," he regretted, adding that MQM-continues to be a victim of conspiracies whereas other political parties are prepping up for upcoming parliamentary elections.