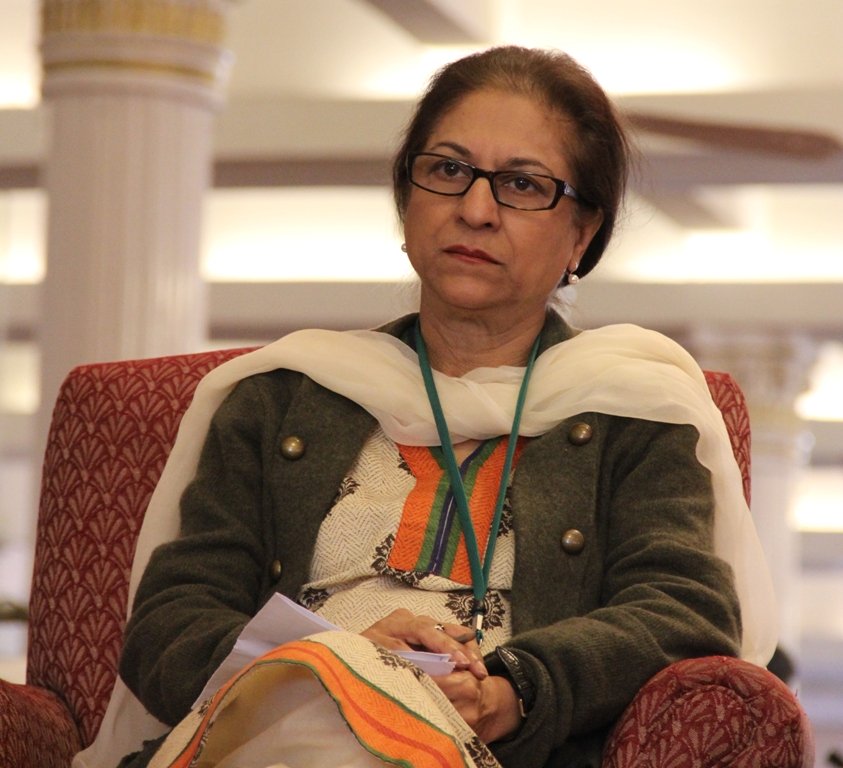 ---
ISLAMABAD: Asma Jahangir was a symbol of hope and resistance against dictatorship, oppression and tyranny, speakers said at a reference held in her memory by Sustainable Development Policy Institute (SDPI) on Monday.

Paying glowing tributes paid to the legendry and brave woman of Pakistan - Asma Jahangir – the speakers said she was larger than life, who contributed a lot to Pakistan's jurisprudence and Constitution.

Asma Jahangir might have died physically, but her ideals and struggle for human rights will live on.

SDPI Executive Director Dr Abid Q Suleri said that the name of Asama Jahangir was synonym to human rights. "Till her last breath, Asma fought for the deprived and depressed segments of the society," he said.

Suleri also announced 'Asma Jahangir Award' in the category of human right activist, which will be given during SDPI's 21 Sustainable Development Conference (SDC) in December.

Who will keep Asma's flame burning?

Planning Commission Deputy Chairman Sartaj Aziz said that Asma Jahangir was the embodiment of courage and bravery, who valiantly continued her struggle for justice and human rights. "Whenever we feel afraid of speaking truth, we should keep in mind the struggle of Asma Jahangir to gain courage," he said.

He called for establishing Asma Jahangir Foundation for Human Right where like-minded women lawyers and civil society activists should get together to make voice for the marginalized segment of the society.

PPP Senator Farhatullah Babar said Asma was symbol of resistance against tyranny, oppression and dictatorship literally and metaphorically. "Asma Jahangir was the champion of equality, as she would have believed in equality of law and humanity," he said.

Babar said Asma Jillani case was the only case in the history of Pakistan in which a dictator was declared a 'usurper', and she fought this case in the court of law when she was only 19-year-old.

ANP leader Afrasiab Khatak said that Asma Jahangir was the ambassador of peace and love, as she was staunch believer of peace and democracy. "Asma believed in peaceful relations with the neighbouring countries especially with India," he said.

Islamabad High Court Bar Association President Arif Chaudhry Advocate said Asma bravely fought for religious tolerance and harmony, without any fear of death threats.

Civil society activist Tahira Abdullah said that Asma Jahangir was not only the icon of resistance and supporter of marginalised segment of the society but also a personality of high stature.

Prominent poet Kishwar Naheed said that the courageous Asma was a voice of oppressed and would have stood against even the civilian dictatorship.

Senior Anchor Person Asma Sherazi said Asma Jahangir is inspiration for everyone, especially women.

Lok Virsa

Islamabad (February 19, 2018) Asma Jahangir was icon of Pakistan's movement for human rights, democracy and rule of law, who spent all her life struggling for making Pakistan a place to live for all. This was stated by speakers at the concluding ceremony of Pakistan Mother Languages Literature Festival on late evening Sunday. The closing ceremony of the third festival was dedicated to pay tribute to Asma Jahangir.

Speaking on the occasion renowned writer and human rights activist Jami Chandio said Asma Jahangir was symbol of struggle and role model for all those who want to contribute to promotion and protection of human rights. "Its easy to tell truth about dictators as they are unpopular any way but Asma also challenged democratically elected leaders when they were doing something wrong," he said.

Open Society Foundations to announce Asma Jahangir scholarship on human rights

Another speaker of the closing ceremony renowned writer and human rights activist Mazhar Arif said Asma was always first to challenge any tyranny and injustice. "She never cared about consequence while speaking truth and never accepted any compromise on the principles" he said. Saleem Malik of Strengthening Participatory Organization said the only way of paying tribute to Asma Jahangir was to continue her mission and keep her legacy alive.

Chairperson of Indus Cultural Forum Niaz Nadeem said sudden death of Asma Jahangir was huge loss for the movement of human rights, democracy and rule of law.

Published in The Express Tribune, February 20th, 2018.
COMMENTS (1)
Comments are moderated and generally will be posted if they are on-topic and not abusive.
For more information, please see our Comments FAQ