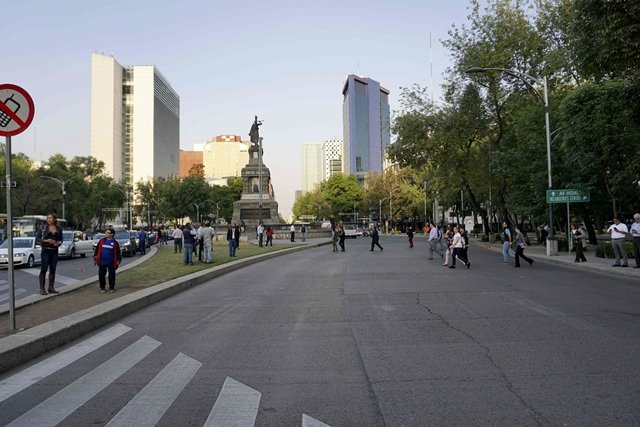 ---
MEXICO CITY: A 7.2 magnitude quake rocked Mexico on Friday, a prolonged rumble that the government said had caused minor damage to buildings in the southern state of Oaxaca, but with no preliminary reports of deaths.

The epicenter was about 90 miles (145 km) from Pacific coast surfer resort Puerto Escondido in the southern state of Oaxaca and had a depth of 15.3 miles (24.6 km), according to the U.S. Geological Survey.

Both the south of Mexico and the capital are still reeling from earthquakes that caused widespread damage in September and he powerful, sustained shaking on Friday caused widespread panic.

More than 224 killed in powerful Mexico quake: authorities

Patricia Gutierrez, a 66-year-old English teacher, was taking a nap with her 11-month-old granddaughter, Juliet, when she heard an earthquake alarm in Mexico City. "She recognized the sound.

When I opened my eyes, I saw her eyes in terror. Her eyes were wide, like plates. She didn't say anything," Gutierrez said of her granddaughter.

Gutierrez managed to leave her ground floor apartment before the quake began. "I left the phone and everything except for my shoes and the baby," she said. Authorities said no deaths had been reported nationally.

Foreigners killed in Mexico quake from Taiwan, Korea, Spain

BRICKS AND RUBBLE Interior Minister Alfonso Navarrete said there was some superficial damage to buildings in Oaxaca, and the state's governor said about 100,000 people had lost power.

In the town of Pinotepa Nacional near the quake's epicenter,a photo obtained from Oaxaca's civil protection agency showed a single-story building where a portion of the brick façade  crumbled into the street. Other images in the media appeared to show bricks and rubble fallen from buildings, and products tumbling off shelves in a supermarket.

National oil firm Pemex said its installations were in order, including its biggest refinery 240 miles (386 km) from the epicenter. A hotel operator in Puerto Escondido said his property had no damage.

Tremors were felt as far away as Guatemala to the south. In Mexico City, tall buildings swayed for more than a minute as seismic alarms sounded, with older structures in the chic Condesa neighborhood knocking into each other, and some cracks appearing in plaster and paintwork.

90 dead as earthquake, storm strike Mexico

The pocatepetl volcano south of the capital sent a kilometer-high column of ash into the sky, said Mexico's disaster prevention agency. Two young men standing by a building that collapsed in a Sept. 19 earthquake were still hugging minutes after the tremor.

People crowded in the streets, one lady in her pajamas. Trees, overhead cables and cars swayed, and a fire truck raced down the street. Guadalupe Martinez, a 64-year-old retiree, said she was still shaking from shock. But the quake was a far cry from the tremors that struck Mexico in September, Martinez said. "This time it was strong, but it did not jump up and down," she said.
COMMENTS
Comments are moderated and generally will be posted if they are on-topic and not abusive.
For more information, please see our Comments FAQ