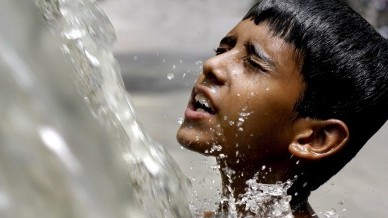 ---
KARACHI: A crippling heat wave dominated the country as temperatures rose up to 50 degrees celsius on Wednesday.

The cities of Multan and Haroonabad experienced temperatures of 50 degrees celsius.

Temperatures in Sukkur and Jacobabad were recorded at 49 degrees celsius, 48 degrees in Bahawalpur and Nowshera Feroz and 47 in Dera Ghazi Khan and Sialkot.

Rawalpindi was slightly cooler with temperatures staying at 41 degrees celsius.

Meanwhile, the Meteorological Department said that temperatures in Lahore were expected to rise to 45 degrees.

They stated that the weather was expected to remain constant across the country in the coming days.

US assistance to overcome power crisis

The United States has provided Rs 25 million for the upgrading of the national grid, stated DG PEPCO on Wednesday.

He stated that the upgrade would help produce an additional 350 megawatts of electricity.

He said that the US is assisting Pakistan with the upgrading of tube well machinery, which will help save more than 1700 megawatts.

DG PEPCO admitted that unannounced loadshedding is not being carried out, but system overload normally causes it to happen. He said that unannounced loadshedding would soon come to an end.
COMMENTS (2)
Comments are moderated and generally will be posted if they are on-topic and not abusive.
For more information, please see our Comments FAQ