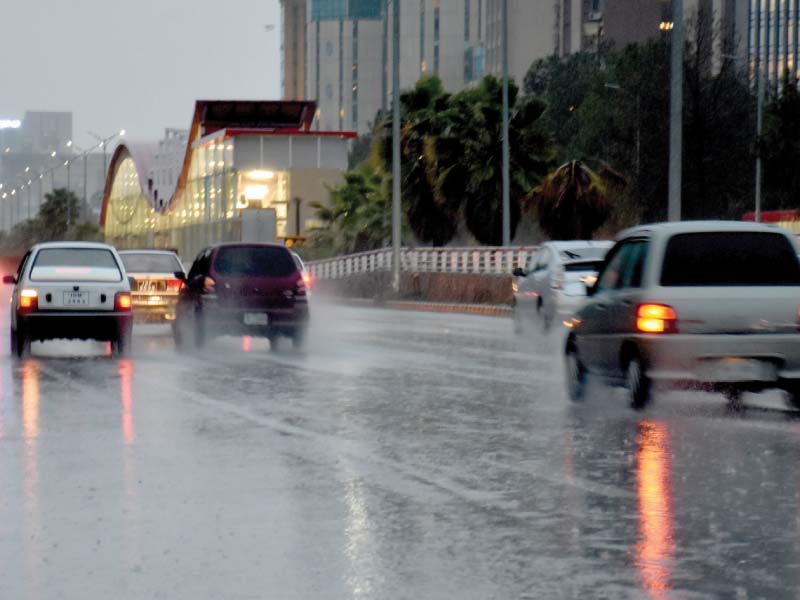 ---
ISLAMABAD: After a long dry spell, the twin cities of Rawalpindi and Islamabad experienced moderate rainfall late Sunday and on Monday.

In what was arguably winter's last downpour, it brought back the joyous chill of winter weather.

Intermittent rain continued throughout the day and brought the temperature down to a cool seven degrees Celsius. Around 10 millimetres of rainfall was recorded in Islamabad on Monday and around nine millimetres in Rawalpindi.

Even though the rain was moderate, roads in some low lying areas were inundated with water, particularly the main Murree Road near Waris Khan and Naz Cinema in Rawalpindi.

Winter 'to end soon' with little chances of rains

As the day progressed, the chilly weather got even frostier, when it started snowing on the hilly areas surrounding the capital.

Some of the capital's residents rushed up the Margalla Hills hoping to catch the winter white blanket of snow.

According to the Pakistan Meteorological Department (PMD), the rains are expected to continue through February 13.


A man sells pakoras and samosas. PHOTO: MUDASSAR RAJA/EXPRESS

Farmer's delight

The much-awaited spell of rains proved to be a blessing for farmers who have planted their Rabi crops. The rains, they hoped, would help boost production of crops, fruits and vegetables for local consumption as well as for exports.

"The rains are particularly beneficial for wheat, which is a major cash crop of the season and a vital source of food," said Dr Imtiaz Ahmad Gopang, a food security commissioner at the Ministry of National Food Security and Research.

Winter rains: This year's December the wettest since 2012

On Monday Dr Gopang explained that the rains had arrived at a crucial time, as all seasonal crops required rains at this stage, particularly wheat, one of the most important cash crops of the country.

Meanwhile, he said that wheat crop cultivation targets for the season 2017-18 had been set at 26.463 million tonnes to fulfil the domestic cereal grain demand as well as for export.

Due to the prevailing long dry spell across the country, all the areas, including those which are rain-fed and irrigated, were facing acute shortages of water, badly impacting the growth and nourishment crops, pulses, vegetables and fruit orchards, Dr Gopang said.

He observed that besides removing the smog and settling dust particles, the rains could have a positive impact on local climate and environment.

Economic impact

Food Security Commissioner further informed that the rains would also be fruitful for oilseed crops including mustard, sunflower and others standing over the thousands of hectares of land across the country and would help to boost their output and enhance the farmers income.

Meanwhile commenting on the impact of rains in crops, Member Plant Sciences in Pakistan Agriculture Research Council Dr Anjum Ali said that it would have a positive impact on seasonal pulses, particularly gram pulse and help to enhance its output.

Dr Ali said that rains would help improve the groundwater level, besides overcoming the 40 per cent shortages of water faced during the season.

The days of smog are over, Punjab welcomes fresh rain

Seasonal foods

Even as the rains appeared to be divine intervention for seasonal crops, it proved to be a bounty for seasonal foods as well.

With the rains, people flocked to stalls and eateries selling fried foods such as samosas and pakoras, Gajrela and fried fish, across the twin cities.

"The most beautiful thing about rain is that everyone, rich or poor, can enjoy it," said Hamza, who had been waiting in an unusually long queue to buy samosas.

We usually eat pakoras during Ramazan, but they are also the only snack you like when it rains", said an office worker Noman Aslam.

"I enjoy every rain in the city but the experience is incomplete without a plate full of pakoras", said a young girl, Nida Tahir. "I have sold around 10 to 15 kilogrammes of pakoras and six dozen samosas within no time," said shopkeeper Saad Bilal.

WITH ADDITIONAL INPUT FROM APP

Published in The Express Tribune, February 13th, 2018. 
COMMENTS
Comments are moderated and generally will be posted if they are on-topic and not abusive.
For more information, please see our Comments FAQ