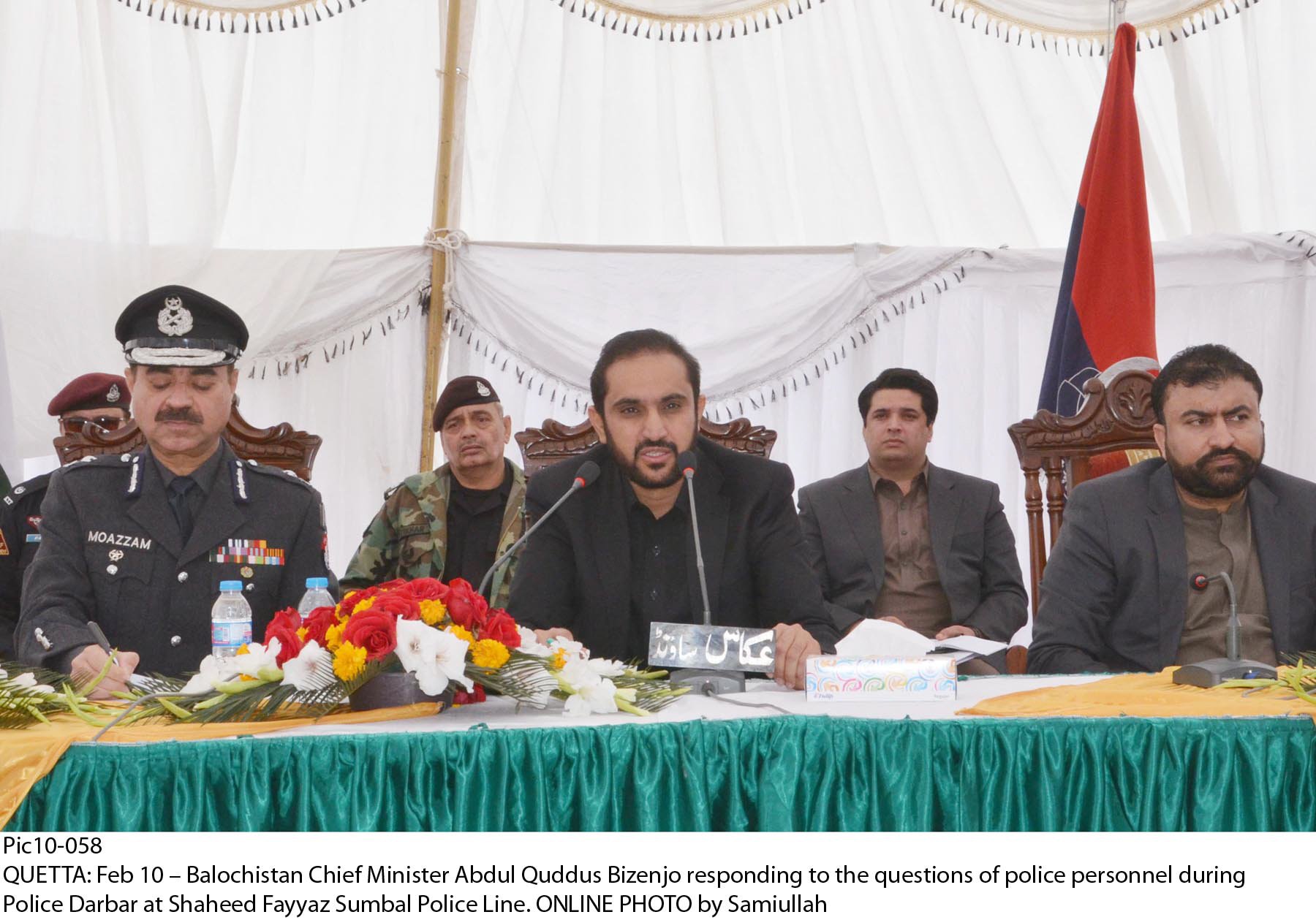 ---
QUETTA: On the orders of Balochistan Chief Minister Abdul Quddus Bizenjo, a 'Police Darbar' has been set up in the provincial capital police line for addressing the issues of the force.

Earlier, Balochistan Inspector General of Police Muzzam Jha Ansari had demanded of the chief minister for setting up a Police Darbar so that issues like upgradation of the police force and establishment of a residential colony for their families could be resolved.

Bizenjo says steps being taken to end unemployment

"I promise not to skip any of the IG's demands," said the chief minister while addressing a ceremony on Saturday. Bizenjo was flanked by Balochistan Home Minister Sarfraz Bugti and others.

"Our government seeks making the police force stronger so that they can fight terrorism with more courage," he added.

Applauding the sacrifices rendered by the police force for protection of the people of Balochistan, he said, "I will fulfil your demands under our available resources."

Bizenjo distributes laptops among journalists

Bizenjo approved the upgradation of the police force and announced establishment of a residential colony.

"The IG has also demanded an increase in the compensation amount for martyred policemen and their families to the level provided by other provinces, but I want to assure you that our regime will fix an amount even higher than all the three provinces have," he added.

The chief minister also announced construction of a 30-bed hospital in Quetta Police Line. He said, "A revolving fund of Rs50 million will be allocated for the treatment of injured policemen while the severely injured ones will be treated in Agha Khan or abroad."

Bizenjo orders holding weekly open katcheris

On the IG's demand of 200 motorbikes for the Quetta Eagle Force, Bizenjo approved it and directed his secretaries and finance department to implement the announcements as quickly as possible.

Taking over the podium, the provincial home minister said, "Our city is safer than in 2013. Despite consecutive attacks on police, not a single policeman has tendered his resignation out of fear."

He said war against terrorism has reached a dangerous level where the country's ideology "is under threat as enemies are using religion to wage war against the state, but our morals are unshakeable and we will confront and defeat the terrorists."

New CM Bizenjo seeks opposition parties' support

Bugti said, "Our police force, Levies and other law enforcement agencies sacrificed their precious lives not for us to sit and relax, but for us to purge the menace of terrorism. Today all RAW-funded terrorist groups are finding escape routes."

He said, "If terrorists gun down a single police officer, I want you guys to kill two terrorists in revenge."

IGP Ansari thanked the chief minister for addressing the issues of the police force and said that the police would continue rendering sacrifices in order to protect the lives of the people of Balochistan.
COMMENTS
Comments are moderated and generally will be posted if they are on-topic and not abusive.
For more information, please see our Comments FAQ