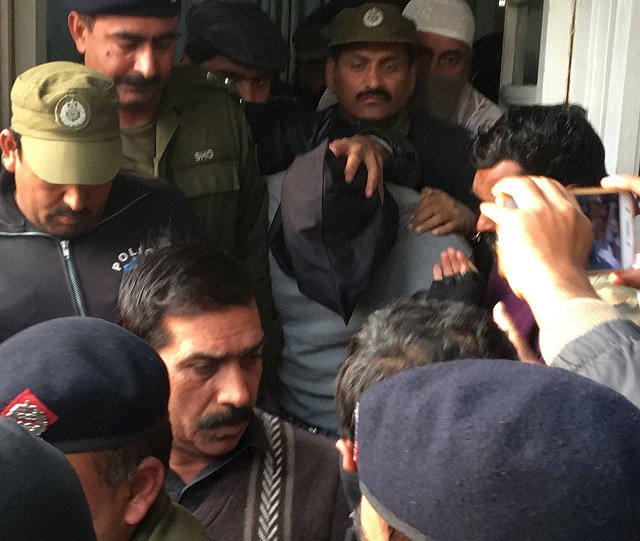 ---
During a hearing in an anti-terrorism court (ATC), on Friday, Punjab Home Ministry ordered Imran Ali's trial to be conducted in the Kot Lakhpat jail in Punjab.

Imran Ali, prime accused in the rape and murder of minor Zainab in Kasur and eight other minors, was produced before the ATC in Lahore.

ATC extends physical remand of prime suspect in Zainab rape, murder case

The decision was taken keeping in mind security issues of the prime accused. CCTV cameras have been installed in the jail to monitor Imran throughout. A special jail cell has been made for his confinement.

The Prosecutor general Punjab Ehtisham Qadir, on orders of the Supreme Court (SC), will plead the case for Zainab. Qadir also submitted a report to the apex court regarding progress made in the case and accused's security measures.

ATC, on Tuesday, extended the physical remand of the prime suspect in the rape and murder case of eight-year-old Zainab for three days.

Imran was presented in the ATC amid tight security where the case investigation officer requested the court to extend his physical remand.

The investigation officer informed the court about Imran's alleged involvement in seven other cases of kidnapping, raping and murdering minor girls.

"Investigations in all the eight cases are currently under way," he said, citing that as a reason behind seeking the extension.

The court granted the extension and handed over the suspect to the police. Tight security measures were put in place for the hearing.

How DNA played key role in tracing Zainab's murderer

Eight-year-old Zainab was kidnapped, raped and murdered in Kasur last month. Her body was found in a heap of trash a few days after she had gone missing.

The DNA found on the victim was similar to that found on previous rape and murder victims. Besides DNA matches, other aspects of the crime scene also matched.


COMMENTS
Comments are moderated and generally will be posted if they are on-topic and not abusive.
For more information, please see our Comments FAQ