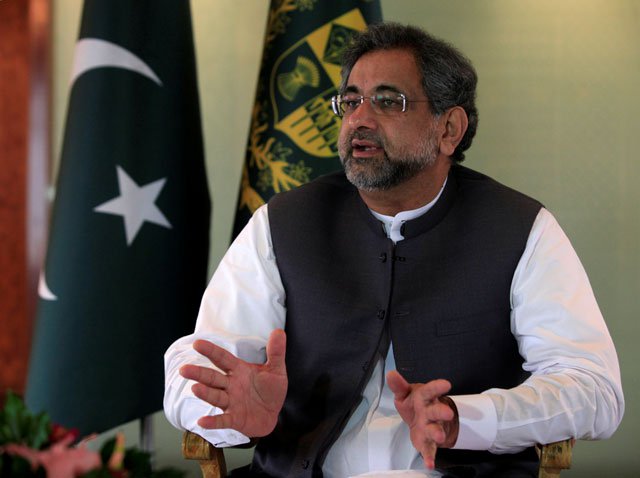 ---
Prime Minister Shahid Khaqan Abbasi on Thursday said the federal government is working on introducing tax reforms that would allow maximum generation of revenue and make citizens "more responsible".

Speaking in an interview with a private local channel, the premier said the country underwent a lot of instability ever since the Panamagate issue surfaced in November 2016, but the federal government did not let it hamper the course of national development.

He said the ruling Pakistan Muslim League-Nawaz (PML-N) government has been inaugurating at least two national-level development projects every week, and has begun implementation of the various policy decisions it made.

"We're working on implementing FATA [reforms], we've banned all automatic weapons... We're also working on introducing a tax framework that won't only solve current problems but would also benefit future governments should they choose to keep it."

The premier said that a country, citizens of which do not pay taxes, can never flourish.

'No need to comment on judiciary or armed forces'

Commenting on the civil-military relations, PM Abbasi said he does not see there is a rift between the two.

"The interaction [between the civil government and the military] helps solving issues faced by the country," he said, adding unanimous decisions are being taken at the National Security Committee.

When asked about the growing differences between the judiciary and the federal government, the PM said politics is an emotional process and it is okay to apologise.

"I've said it repeatedly in cabinet meetings as well as parliamentary party meetings that there is no need to issue statements regarding judiciary or the armed forces," PM Abbasi said, adding that there's no harm in apologising if sentiments get hurt.

Regarding the contempt of court notices served to Minister of State for Interior Affairs Talal Chaudhry and Minister for Privatisation Daniyal Aziz, the premier said he has not spoken to the two ministers regarding the issue but that he "understands the circumstances behind which they made those statements".

Foreign aid is 'never free'

When asked whether Pakistan can survive without American aid, the PM said Pakistan is a sovereign state and it gets very limited funds in aid.

"Aid is never free, a condition or another is always tied with it," the PM said, adding Pakistan gets "barely any amount" in economic aid and military aid, and that it is still awaiting re-imbursement on expenditures.

"But Pakistan is surviving. We just want relations with the US to keep improving," he added.

He said Pakistan has always supported talks with India and Afghanistan, keeping in mind the resolutions adopted by the United National Security Council.

"Afghanistan's problems are their own to solve. War isn't a solution there. It's been going on for 40 years now, and no solution has come out of it," PM Abbasi said.

"[The Afghan leadership] needs to sit and talk among themselves, we are open for talks and help them in anyway possible.

"Because anything that happens in Afghanistan affects us the most," the PM added.

He said Pakistan has always supported talks with India, and the meeting of Kulbhushan Jadhav with his family was "a humanitarian gesture that is a right of every convicted or under-trial prisoner".

The Prime Minister said India is frustrated over ongoing indigenous movement in Occupied Kashmir that's gaining momentum in the region. "They don't see a way out. They try to dissipate that pressure by unprovoked firings on Line of Control."
COMMENTS (1)
Comments are moderated and generally will be posted if they are on-topic and not abusive.
For more information, please see our Comments FAQ