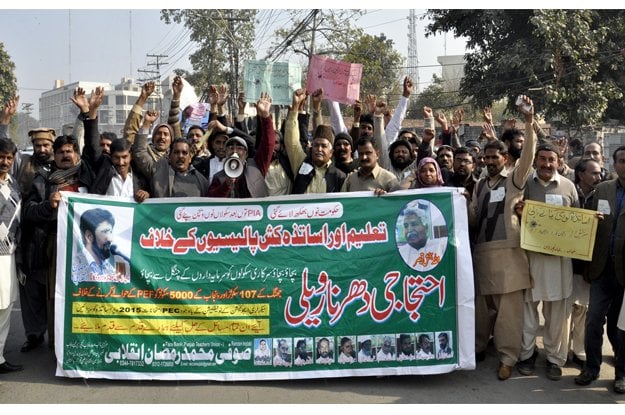 ---
LAHORE: Employees and teachers of the Punjab Literacy and Non-formal Basic Education (LNFBE) department staged a sit-in against the provincial government at the Charing Cross in front of the Punjab Assembly on Thursday.

The protesters, represented by the Punjab Literacy Association (PLA), demanded that the government regularise 1,206 employees of the department, who had been working on contract basis for years. While the second demand was put forward by the protesters was that the teachers of the LNFBE department should at least be given minimum wage as per government policy. There are around 15,000 teachers employed by the department.

Speaking at the gathering, PLA President Rai Zohaib Asghar said the teachers would continue the sit-in until their demands were met by the government. "The first demand," he said, "is that the employees, working on contract basis, should be regularised and be given all the perks and benefits. The second is that the teachers of the department should at least be paid the minimum salary of Rs15,000," he said.

Shazia Mukhtar, a teacher from Mandi Bahauddin, told The Express Tribune that she was teaching children for the department for a decade. "I started with Rs1,000, which was later increased to Rs2,500 and for the last four years, I am getting Rs5,000," she said.

Horns and scuffles

A distance of just a metre took hours to cover for commuters on the roads of Lahore due to massive traffic jam caused by protests as well as construction work on the Orange Line Metro Project (OLMT) and on different roads of the city.

Traffic moved at a snail's pace at all the major roads particularly Mall Road, Temple Road, Mozang Road, Durand Road, Copper Road and Macleod Road. People leaving for their workplaces, homes and educational institutes remained stuck for hours. Honking horns and scuffles between different people was the order of the day on these roads.

Mall Road was blocked from the S0tate Bank of Pakistan to Anarkali Chowk due to work on Orange Line Metro Train Project. Traffic was diverted from SBP chowk to Fan Road. It passed from Mozang Road and after passing from AG office, it was again diverted towards Mall Road.

Published in The Express Tribune, February 9th, 2018.
COMMENTS
Comments are moderated and generally will be posted if they are on-topic and not abusive.
For more information, please see our Comments FAQ