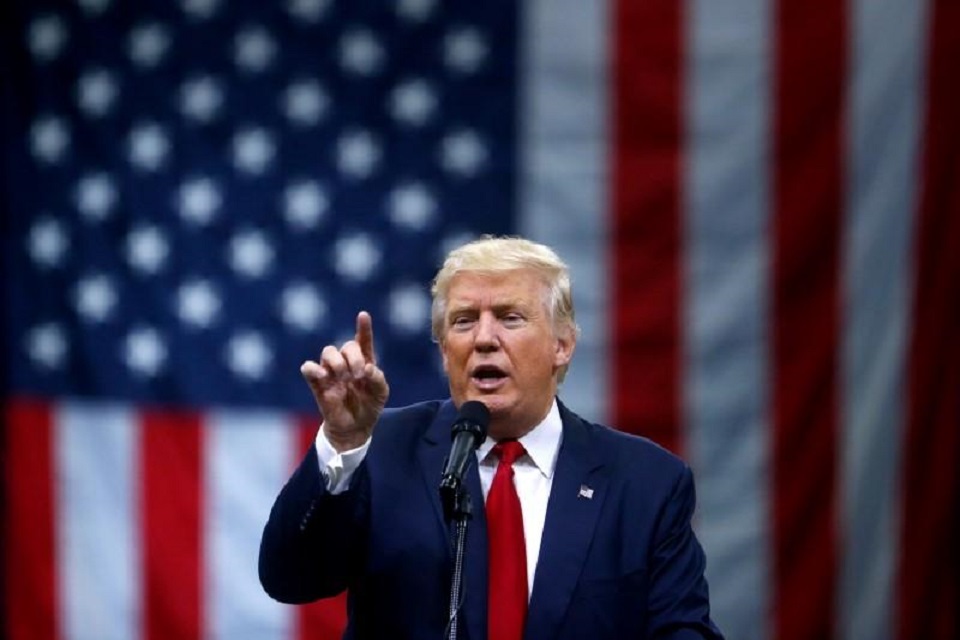 ---
WASHINGTON: US President Donald Trump on Tuesday sought to use the death of an National Football League (NFL) player in a car crash - blamed on an undocumented migrant - to bolster his campaign to tighten border security.

Two days after Indianapolis Colts player Edwin Jackson and another man were killed, Trump highlighted that the suspected drunk driver -who had been deported twice in the past - was again in the country illegally.

"So disgraceful that a person illegally in our country killed @Colts linebacker Edwin Jackson. This is just one of many such preventable tragedies. We must get the Dems[Democrats] to get tough on the Border, and with illegal immigration, fast!" Trump tweeted.

Jackson and the driver of his ride-share car were killed after a black Ford F-150 pickup driven by 37-year-old Guatemalan national Manuel Orrego-Zavala struck both of them as they were standing on the side of a highway near their stopped vehicle.

Trump's tough talk may help Pakistan keep top talent

Immigration authorities are working with local police on the case.
Prosecutors unveiled federal charges of illegal re-entry of a previously deported alien against Orrego-Zavala. He faces up to 10 years in prison if convicted.

According to the complaint, Immigration and Customs Enforcement and Removal Operations arrested him in October 2006, deporting him to Guatemala in January 2007, at which time he was barred from returning to the United States for 10 years.

However, Orrego-Zavala was arrested again by Immigration and Customs Enforcement's (ICE) Enforcement and Removal Operations (ERO) in March 2009, deported to Guatemala in May 2009, and barred from returning to the US for 20 years.

At the time of his most recent arrest, in Indianapolis on Sunday, Orrego-Zavala provided a false name to authorities - Alex G Cabrera - though authorities soon uncovered his real name.

"The defendant in this case allegedly re-entered the country illegally for the second time before he put the public safety of Indianapolis at risk and took the lives of two innocent men early Sunday morning," US Attorney Josh Minkler said in a statement.

Trump defiant as deadlines loom on budget, immigration

He noted that Attorney General Jeff Sessions has ordered all federal prosecutors to prioritize charging immigrants who have illegally re-entered the US, especially when they are linked to a crime or present a risk to public safety.

"Following the rule of law is the foundation of our American democracy, and my office is committed to fulfilling the attorney general's directive," Minkler added.

Since taking office, Trump has repeatedly tried to link migration with crime.

He hosted law enforcement agents at the White House on Tuesday for a roundtable on the violent MS-13 gang, which originated in California, but has ties to several countries in Central America.
Most of the gang's estimated 10,000 members in the US trace their heritage to El Salvador, Guatemala or Honduras.

Trump has demanded that Democrats in Congress agree more spending to build a "wall" on the Mexican border and on America's ICE deportation force, and he appears to have lost patience over a Congress still deadlocked on immigration.

"If we don't change the legislation, if we don't rid of these loopholes where killers are allowed to come into our country and continue to kill... let's have a (government) shutdown," Trump said as the White House meeting ended.

As America pulls out, China pulls in

"I'd love to see a shutdown if we don't get this stuff taken care of."
Linebacker Jackson, 26, was signed by the Colts in January 2016 and played parts of one season in the league. He started eight games for Indianapolis, making 66 tackles.

Police said after the truck hit them, Orrego-Zavala then tried to flee the scene on foot before being arrested.

"My prayers and best wishes are with the family of Edwin Jackson, a wonderful young man whose life was so senselessly taken," Trump also tweeted.
COMMENTS
Comments are moderated and generally will be posted if they are on-topic and not abusive.
For more information, please see our Comments FAQ