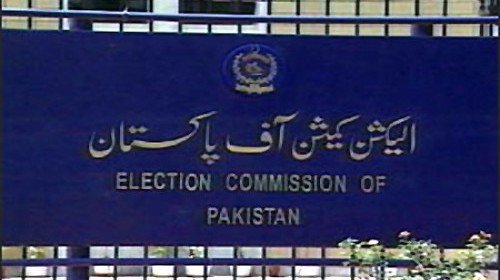 ---
The Election Commission of Pakistan (ECP) is considering representation of the middle class as well as expatriate Pakistanis in parliament, Secretary ECP Ishtiak Ahmed Khan told journalists, unveiling a revolutionary five year (2010- 14) Strategic Plan.

Khan described the plan as a "historic document" and hoped that it would give a new vision and approach to the ECP for ensuring free, fair and transparent elections. "It is a consensus document with the input of stakeholders, experts and political parties, and a way forward to make the ECP more autonomous and ensuring error free polls," he said. "We are studying the proposal that 25 per cent of seats in the parliament and the provincial assemblies be allocated for middle class people who have a monthly income of up to Rs25, 000," he said, replying to a question about ECP's role in the political evolution in the country.

"There is another proposal to paste pictures of voters on the electoral rolls to avoid duplicity or fake votes," he added. Replying to a question about expatriate Pakistanis' right to vote, the secretary said that the ECP is considering the method of a proportionate representation for overseas Pakistanis, as it would be too difficult to lay down a procedure for all 5.5 million expatriates. He elaborated 15 strategic goals – registration of voters/electoral rolls; election operations; election complaints/dispute resolution; restructuring of the ECP; infrastructure, logistics and equipment; human resources; finance and budget; training, research and evaluation; information technology; public outreach - civil society, political parties and media; political parties and candidates; civic/ voters education; marginalized groups; and the image of ECP.

He said that 129 objectives have been identified during the sixmonth marathon deliberation on preparation of goals that will be implemented during the next five years with the cost of approximately Rs8–10 billion. Some laws will also have to be amended to implement these goals. He said there is room for improving rules to prepare error free rolls, resolution of disputes, enhancing capacity of electoral staff, education of voters and restoring the confidence of voters.

The secretary also said that the volume of female employees shall be increased from the present one per cent to 10 per cent, with a five per cent quota for minorities and two per cent for the disabled. He categorically stated the ECP is working without any pressure although there were certain enforcement problems regarding influencing voters at local levels, as well as complaints of polling station rigging.

Published in the Express Tribune, May 26th, 2010.
COMMENTS (1)
Comments are moderated and generally will be posted if they are on-topic and not abusive.
For more information, please see our Comments FAQ