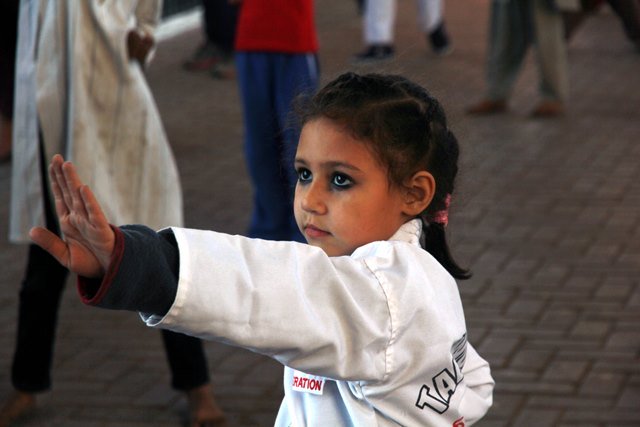 ---
KARACHI: The brutal rape and murder of seven-year-old Zainab in Kasur has opened the eyes of the public to the crimes perpetrated against children every day. To counter this, a school in Karachi has started teaching street children self-defence.

The brainchild of Syeda Anfas Ali, the classes are being organised especially for street children because they spend most of their time on the streets without adult supervision and are therefore the most vulnerable to sexual predators.

Ali, who is president of the Ocean Welfare Organisation, said she wanted to start the training much earlier but the tragic death of Zainab made her realise that she must help protect future Zainabs.

She is already running a Footpath School under the Bahria Flyover near Abdullah Shah Ghazi's shrine in Clifton. The self-defence classes are held under the banner of the 'Zainab Memorial Self-Defence Training'. They are held every day from 3:30pm to 5pm.

We are getting closer to Zainab's murderer: CM

Ali said that no counseling helps children in situations of abuse or abduction. She said in that moment the only thing that will help them is skills for self-defence. "Unfortunately, we teach our children how to eat fish but not how to catch them," she lamented, adding, however, that they also provide counseling at the Footpath School.




"We tell street children about social issues and moreover don't shy away from telling them about the gruesome murder of young Zainab, which could happen to any child anywhere. Most of our children don't know what to do when faced with such untoward advances."

However, she said that they do not have enough funds to provide kits to the children who come to their training sessions. Most of the children at the sessions do not even have shoes.

The training is open and free for every child between the ages of five and 16 but the lack of funds is a constraint for the school.

The children are later given Rs10 each and something to eat, such as a packet of biscuits and juice or milk. "We treat and engage with these children like they are normal kids. Most of the kids study during our morning classes and participate in the training in the afternoon," she said. The classes started last Tuesday but the interest of the girls and boys registered for the training is extraordinary as the entire area is full of children wanting to learn some techniques, explained Ali.

"Zainab's murderer should be hanged publicly, be made an example of": Rehman Malik to Senate

According to her, we need to teach children how to defend themselves or else such issues will keep happening in the future. She said that every child at the training knows what happened to young Zainab so that they remain alert. "We have also taught them how to protest peacefully. The children also held a protest following the news of Zainab's murder," said Ali.




Children as young as five years old participate in training where they are taught how to warm up and practice some punches and kicks needed to protect themselves. Fatima, who comes to attend classes from Shireen Jinnah Colony, said that she is never going to accept anything from anyone except her parents. She said if someone wants me to take by force I will punch them or at last scream so that he runs away.

Mubashir Hasan, a Karate instructor who was teaching the session, said that they are trying to inculcate confidence among the children by making them learn a few self-defence techniques. "My aim here is to make them realise that they can do anything to keep themselves protected and should not consider themselves weaker beings."

According to Hasan, knowing basic self-defence techniques is as necessary as teaching someone how to walk or eat.
COMMENTS (1)
Comments are moderated and generally will be posted if they are on-topic and not abusive.
For more information, please see our Comments FAQ