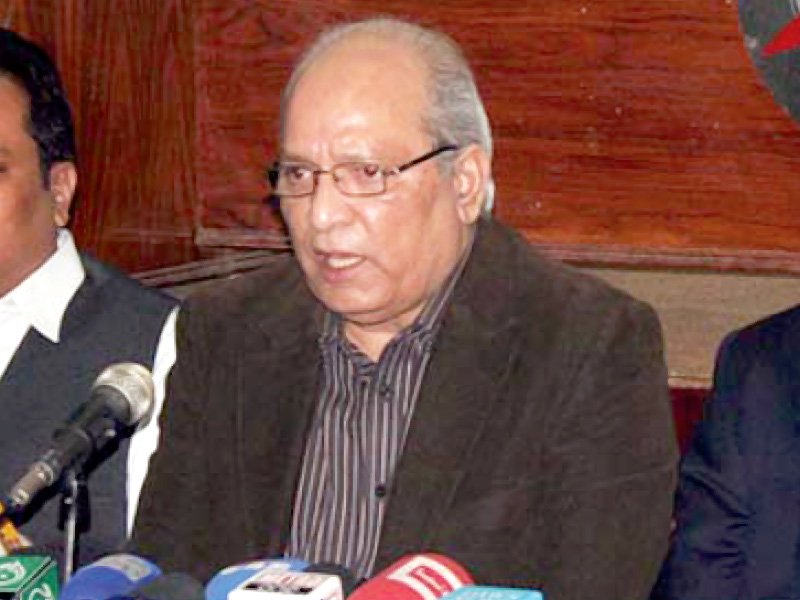 ---
ISLAMABAD: A senior federal minister on Monday accused the judiciary of being hand-in-glove with the country's powerful establishment in a scheme aimed at disqualifying former prime minister Nawaz Sharif.

During a discussion in the Senate on some opposition leaders' recent remarks against parliament, a close aide to the deposed prime minister and Minister for Climate Change Mushahidullah Khan observed that "the judiciary, with the connivance of the establishment, disqualified Nawaz Sharif".

Unable to improvise, Mushahidullah insists on giving prepared speech at COP 23

The upper house on Monday initiated a debate on the supremacy of parliament where the major opposition party, the Pakistan Peoples Party, appeared on the same page as the government when it came to criticism of PTI and AML leaders Imran Khan and Sheikh Rashid, respectively, for their anti-parliament speeches.

On the other hand, PTI members defended the remarks of their party chief and PTI's parliamentary leader of the party in the Senate Noman Wazir said his party chairman used the word 'curse on parliament' to reflect the body's poor performance.

Taking part in the debate from the government side, Mushahidullah Khan said using such derogatory words against the country's most sacred institution was tantamount to committing treason.

He requested the Senate to suggest some action against both the leaders as they had crossed all limits in their lust for power.

PPP Senator Farhatullah Babar was of the opinion that such remarks about parliament had strengthened all the anti-democracy elements who wanted to undermine the democratic process in the country.

PTI Senator Noman Wazir said that the performance of parliament was below average despite the many resolutions passed, and that the government that was not serious in implementing the decisions of parliament.

"I have never seen a weaker institution than this parliament," he said, adding that no other words than this could be used for it.

During a discussion on the mysteriously disappeared activist Raza Mehmood Khan, who went missing from Lahore on December 2, Senator Farhatullah Babar said it was intriguing that the majority of bloggers and activists who went missing were those who were advancing alternative theories of national security and disagreed with official narratives.

Everyone suffers consequences of weak judge: PM

He said the missing Raza Mehmood was known for advocating peace in the region, particularly peaceful coexistence with India. "This is against the state narrative of peace and security in the region," he said.

Babar said the five bloggers, who went missing last year and later returned home, were too scared to talk about their ordeal and have sought refuge in foreign lands.

They were also known for post material that went against the official narrative of what constituted national security, he said.

He proposed disbanding the present commission on enforced disappearances and replacing it with another one which should also include expert investigators.

The chair sought a fresh report from the government over the disappearance of Raza Khan.