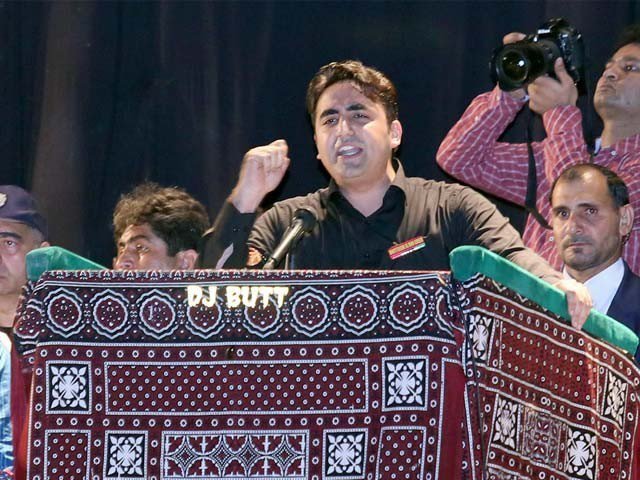 ---
Pakistan Peoples Party (PPP) Chairperson Bilawal Bhutto Zardari condemned the current federal government over 'exploiting' Balochistan, saying that people of Balochistan have the first right to its resources and how they should be managed.

The party chief was speaking at a rally in Hub on Saturday.

Calling out the Pakistan Muslim League-Nawaz (PML-N), he said the federal government in its five years of rule failed to give Balochistan its due financial share in the National Finance Commission Award.

"Why did you stay silent when some 90 per cent of the NFC funds were awarded to Punjab?" he questioned, adding that the PML-N government politicised the China-Pakistan Economic Corridor (CPEC) that the PPP had signed only to benefit the local residents.

Sharif's political career is over, says Bilawal Bhutto

"Why don't the people of Gwadar have access to clean drinking water until now," Bilawal said, accusing the PML-N government of using CPEC for its own personal and political gains.

He also spoke of his parties' various achievements such as empowering at least 950,000 women living in abject poverty in Balochistan via the Benazir Income Support Programme.

"Never had Balochistan received as much financial support from a federal government in the history of Pakistan as it had when PPP was in power," Bilawal claimed.

The PPP chairperson also spoke against former president Pervez Musharraf, saying his party democraticised much of the province that had been taken over by the military rule.

Pervez Musharraf killed my mother: Bilawal Bhutto

"We got rid of cantonments' encroachments and returned you your rightful land," Bilawal said.

The PPP chief said that within two years of taking office, it introduced the 18th Amendment safeguarding the right of the provinces to govern themselves.

"We want Balochistan to have financial independence, we want you to have the right to govern yourself," the chairmen added.

"You get to have the first say on all your resources and the first right to reap all benefits of CPEC and employment opportunities."
COMMENTS
Comments are moderated and generally will be posted if they are on-topic and not abusive.
For more information, please see our Comments FAQ