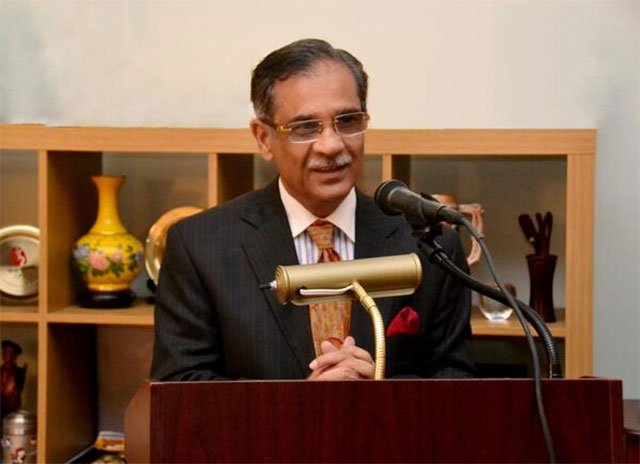 ---
LAHORE: A day after calling parliament the supreme institution, Chief Justice of Pakistan (CJP) Mian Saqib Nisar on Saturday vowed that the judiciary would not let democracy derail.

"The judiciary will not allow democracy to be derailed. There will be rule of law in the country. Everyone will have to work for dispensation of justice to the common people," the CJP said while addressing a seminar organised by the Lahore High Court Bar Association (LHCBA).

He said judiciary is an independent institution and everyone should be proud of it. "The country cannot move towards progress until there is education, an honest leadership and independent judiciary. An honest leadership can change the fate of the people," he added.

Parliament is a supreme institution for us: CJP

Justice Nisar said the country was faced with huge problems, but the nation should face them with unity rather than getting panicked. "Nations do come across challenges, but honest leadership steers the people out," he said.

"The judiciary is playing its constitutional role to protect the fundamental rights of people in accordance with law. The judiciary is like a watchdog whose duty is to eliminate fitna [mischief] from the country," he added.

The CJP laid stress on judges to become what he called, 'Qazi' who dispensed justice to the needy, adding that if a judge "deems himself superior, he is wrong".

Axact scam embarrassed the country globally: CJP

He made clear that no judge could hand down a decision based on his liking or disliking. "Such judges can go home if they cannot dispense justice to the people," he added.

"The judiciary is not here to enjoy the status but to dispense justice to people in accordance with law," he said. "I have no right to sit on my seat and I should go home if I am not doing my job with devotion and in accordance with law," he said.

Justice Nisar said the bar and the bench "are indispensable to each other's integrity and the crippling of either of the two cripples the whole institution". He called it the duty of the judiciary to eliminate discord and provide justice as their duty, and not to favour anyone.

Not bothered by criticism, will protect rights: CJP 

Lamenting the exiting state of affairs, he said the pensioners required 'sifarish [recommendation]' to draw pension from the institution they served their whole lives. "Those who are responsible for the downtrodden are not able to cater to them properly," he added.

The CJP also called on the lawyers to serve the community. "Those bar representatives who are elected by the lawyer's votes should work for the betterment of lawyer's community rather than making money," he added.
COMMENTS
Comments are moderated and generally will be posted if they are on-topic and not abusive.
For more information, please see our Comments FAQ