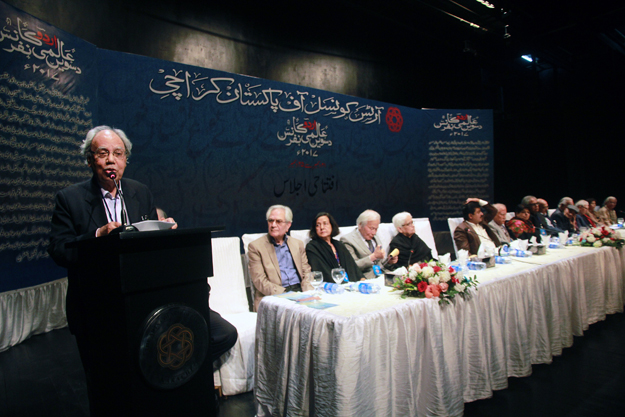 ---
OUR CORRESPONDENT: The 10th International Urdu Conference was inaugurated at the Arts Council of Pakistan, Karachi on Thursday with a large number of writers, poets and intellectuals from within and outside Pakistan gracing the occasion.

Keynote addresses at the inauguration ceremony were presented by writer Mubeen Mirza and critic from India Shamim Hanafi.

The stage could barely contain the constellation of literary giants seated in a long queue. Among the luminaries included Zehra Nigah, Asad Muhammad Khan, Iftikhar Arif, Dr Pirzada Qasim, Zahida Hina, Amjad Islam Amjad, Arif Naqvi, Qazi Afzal Hussain and Japanese Urdu scholar Hiroji Kataoka. Culture Minister Sardar Ali Shah was called as the chief guest at the event.

This year marks the completion of a decade of the conference for Urdu which has been hosted by the Arts Council of Pakistan, Karachi annually since 2008. The council's president Ahmed Shah thanked all the participants and writers who contributed to the conference in the past and made sure that it continued as a literary tradition of the city.

International Urdu Conference to kick off on December 21

A short video titled 'Roodad-e-Safar [story of the journey]' was screened before the keynote addresses which featured glimpses of the previous Urdu conferences. The video contained many great names in the fields of arts and literature who had attended the Urdu conferences before but were not alive to witness the celebrations of the 10th conference. The late artists, writers and scholars shown in the video included Dr Aslam Farrukhi, Jamiluddin Aali, Intizar Hussain, Dr Abdul Wahab,  Dr Farman Fatehpuri and Kamal Ahmed Rizvi.

Ahmed Shah, in his welcome address, lamented the prejudices among different groups in Karachi. "There was a time when we used to have literary sittings with Khalid Alig, Salim Ahmed, Qamar Jameel and Obaidullah Aleem. No one hated each other. Besides all ethnicities lived in harmony. However, the city's peace was then disrupted due to a conspiracy," he said, adding that things are bound to worsen when knowledge is separated from power.

The Arts Council president informed the gathering that this time the conference has been extended to five days instead of four days. The conference will conclude on December 25 when a cake-cutting ceremony will be held to celebrate Quaid-i-Azam's birthday and the resolution of the conference will be passed calling for running the country's affairs according to the vision of the father of nation.

Karachi Music Festival ends today

In his keynote speech, Mirza elucidated on the need for literature in the 21st century. He regretted the decline in social and cultural values in the modern world which, he thought, was a result of general skepticism.

The distinction between black and white has been blurred, Mirza said, adding that everything seems to be grey area in today's world. As a result, people are unable to differentiate between vice and virtue. Vice has worn the garb of virtue while it has become hard to identify the virtue due to its so many pretensions, the writer said.

Understanding of life and civilisation had never been too complex due to skeptic attitude which is prevailing over every reality, Mirza maintained. He bemoaned that today people are virtually connected with thousands of other people, yet they have no real friend to whom they can convey their inner feelings. Human beings are more lonely than ever before and to deal with their boredom they have found superfluous gadgets, he said.

"Shape without form, shade without colour, Paralysed force, gesture without motion," Mirza quoted lines of TS Eliot's poem The Hollow Men to express the condition of human beings once they are completely led by skepticism.

Festival celebrates country's rich heritage

A flood of skepticism is approaching us with the intention to destroy all our civilisation and established values, Mirza said, adding that literature in today's world acted as a tool that lighted the way of preserving finer human values.

Hanafi, in his keynote address, tried to encapsulate the changing trends in Urdu literature after Partition. Before independence, writers and poets had undefined expectations which they had harboured for the post-independence era. However, after the creation of the two countries, the expression got pessimistic and bitter as expectations which had been attached with the independence did not bear fruit.

The Indian scholar cited verses of the post-independence era expressing bitter ideas such as a verse of Muhammad Alvi, "Ache din kab aayenge? Jab hum bas mar jayenge [When will good times come? They will come after we are gone]".

After the keynote speeches, comments were sought from the luminaries on the stage. Dr Qasim said it was a positive omen that the participation of youth was increasing in the Urdu conference every successive year.

Experts lament lack of planning in Karachi's development

"We have not remembered Quaid-i-Azam. We are instead remembering the likes of Hafiz Saeed," said Kishwar Naheed. She added that during Ziaul Haq's era, writers would come out to protest but now they had stopped to play a proactive role. "Writers should have taken to streets when Faizabad sit-in was going on but no one came out," she said.