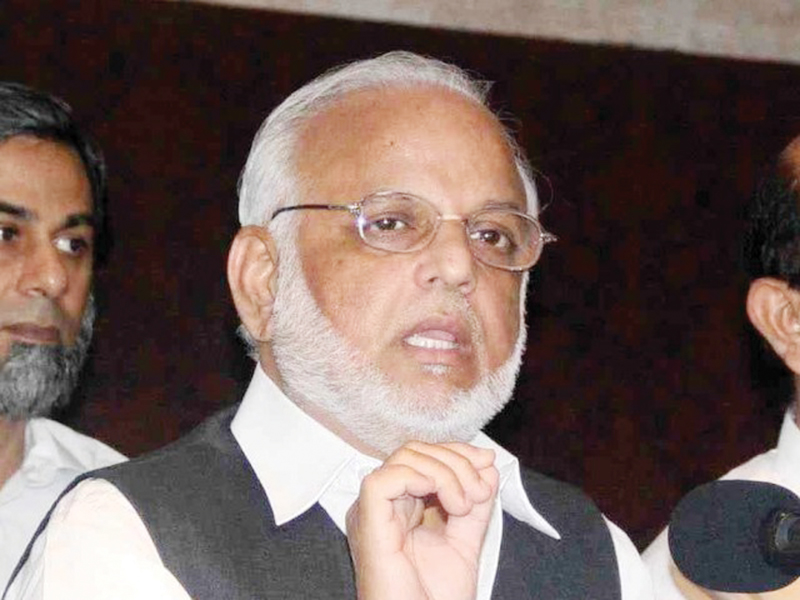 ---
LAHORE: The opposition parties strongly criticised the government for using force against protesters of Tehreek Labbaik Ya Rasool Allah, who have been staging a sit-in in Islamabad in favour of their demands.

Pakistan Tehreek-e-Insaf (PTI) senior central leader Ejaz Ahmad Chaudhry demanded the government refrain from taking direct action against protesters and remove the federal law minister as the country was not in a position to face any other crisis.

Political parties disappointed with Centre's approach

"The federal ministry of law was responsible for creating this crisis. The government is trying to give a political angle to this religious issue," he said. He asked that if Federal Minister for Law Zahid Hamid was willing to tender his resignation, why was the government not allowing him to do so.

Though the parliament has restored Tahafaz-e-Khatam-e-Nabowat law, it failed to identify the names of the people who were responsible for creating this anomaly, he said. "The issue of Namoos-e-Risalat is very sensitive and the entire nation is worried about current situation."

Chaudhry demanded the government make Raja Zafarul Haq's inquiry report public otherwise the issue would become dubious and controversial. "The people of Pakistan want to know name of people who are responsible for this situation."

The country is burning and the state is losing its writ, says Imran Khan

He underscored that people were protesting in all cities of the country due to the negligence of the government. He added that the current regime should step down and announce early polls in the country.

Pakistan Muslim League-Q (PML-Q) President Chaudhry Shujjat Hussain said that the government was using force against protesters just to save ousted premier Nawaz Sharif. "The government was not making Raja Zafrarul Haq's inquiry report public just to hide names of real culprits."

Hussain said that it was not a wise decision to pull news channels off air to deal with the situation. He suggested that Prime Minister Shahid Khaqan Abbasi should stay in Islamabad and negotiate with protesters to solve this issue. "If I were the premier I would have never used force against peaceful protestors and would olve this issue through talks."

Pakistan Muslim League-Q senior leader Chaudhry Pervaiz Elahi said that the government should come up with a peaceful solution
of the current crisis otherwise the situation will aggravate.

"It is a very sensitive issue and every Muslim has a very strong opinion on the issue. But, deposed premier Nawaz Sharif and Punjab Law Minister Rana Sanaullah are trying to keep their masters happy, including western countries."

Published in The Express Tribune, November 26th, 2017.